Court / Viking Energy reapplies for land court consent
VIKING Energy has reapplied to the Scottish Land Court for consent for the construction and operation of its planned 103 turbine wind farm.
The application, if approved, will supersede previous approval granted in 2018 as it includes a greater turbine height of 155m.
Last year Viking Energy successfully gained permission from Scottish ministers to increase the turbine size from 145m.
The Crofting Commission or any other party with an interest may object to the application within 28 days.
The application also includes the implementation of a habitat management plan by "carrying out works for the benefit of protected bird species and to restore blanket bog".
A land court hearing took place in Lerwick in 2018 after four local crofters objected to the wind farm plans, with Viking ultimately winning the case.
Under the Crofters (Scotland) Act 1993 a landlord, or any person acting with the consent of the landlord, needs to apply to the land court for consent of any major development.
Viking Energy, meanwhile, confirmed it was making progress in putting together an environmental advisory group.
Campaigners Sustainable Shetland, however, said the group should have already been in place before ground work investigation took place.
Space2face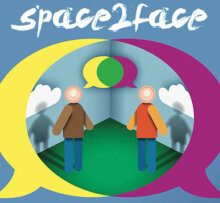 Space2face Shetland is an independent and confidential service which uses Restorative Justice and the arts to bring those harmed by crime or conflict and those responsible for the harm into communication. We enable everyone affected by a particular incident to play a part in repairing the harm and finding a positive way forward.
If you would like to reach out to us, please contact us via e-mail info@space2face.org or mobile 07564 832467.
If you would like to know more, visit our website www.space2face.org, or our Facebook page #space2faceshetland.
---
The project is also currently fundraising to secure office space in Shetland's brand-new creativity and wellness centre, The Mission. If you're interesting in getting involved, or making a donation, head over to www.space2face.org/how-you-can-help