Court / Maverick campaigner jailed for secret court recordings
SELF-styled campaigner for an independent Shetland, Stuart Hill, was jailed for two months at Kirkwall Sheriff Court after admitting having secretly and illegally recorded court proceedings.
The 77-year-old from Cunningsburgh is standing trial in Orkney after failing to declare election expenses.
Hill stood as an independent candidate during the 2017 UK parliamentary election in which he came last with 245 votes.
In court on Wednesday sheriff Richard McFarlane said he had spotted a passage in Hill's book Stolen Isles: Shetland's True Status in which the author claimed to have recorded court proceedings.
Asked if he was recording his current case, Hill confirmed that he was.
When Hill appeared back in court on Thursday he was sentenced to two months behind bars for contempt of court after declining to delete the previous day's recording from his BlackBerry phone stating he didn't recognise the sheriff or the court's authority.
He was also ordered to forfeit his recording device. The election expenses trial continues on 4 March.
Space2face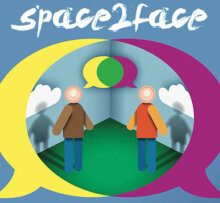 Space2face Shetland is an independent and confidential service which uses Restorative Justice and the arts to bring those harmed by crime or conflict and those responsible for the harm into communication. We enable everyone affected by a particular incident to play a part in repairing the harm and finding a positive way forward.
If you would like to reach out to us, please contact us via e-mail info@space2face.org or mobile 07564 832467.
If you would like to know more, visit our website www.space2face.org, or our Facebook page #space2faceshetland.
---
The project is also currently fundraising to secure office space in Shetland's brand-new creativity and wellness centre, The Mission. If you're interesting in getting involved, or making a donation, head over to www.space2face.org/how-you-can-help