Court / Trial against Stuart Hill adjourned until next month
THE TRIAL against a 77-year-old former election candidate was adjourned at Kirkwall Sheriff Court on Wednesday after he told the court he was unable to begin questioning his defence witness because he had been prohibited from using his laptop while in prison. 
Stuart Hill, of Bard View, Cunningsburgh, Shetland, is accused of failing to declare his election expenses after standing as a Northern Isles candidate in the 2017 general election.
Following a hearing in January, he was jailed for two months after a passage from a book he authored revealed that he illegally records court proceedings.
Hill, who also goes by the name Stuart of Forvik, heads a campaign to declare Orkney and Shetland an independent sovereign state.
He has denied the authority of the court, dubbed the election in which he ran "illegal" and has repeatedly been threatened with being held in contempt for refusing to confirm his identity on multiple occasions.
The accused, who last week announced that he was going on hunger strike for the duration of his imprisonment, appeared frail as he stepped into the dock at Kirkwall Sheriff Court.
Historically, over the course of this case, which has run for nearly three years now, Hill has staunchly refused to confirm his name when asked by the sheriff clerk.
But, responding to the request on Wednesday, he said flatly: "I think we've covered that already, haven't we?"
Asking for a glass of water, the accused — who insists on remaining standing throughout proceedings — began to pose, in a weaker voice than usual, the argument that the sheriff had no jurisdiction over him.
Supporting Hill from the public benches at his latest hearing of the trial, which began last June, were several 'freemen' – who similarly defy the jurisdiction of courts, governments and monarchy over them.
Asked to move on to presenting his first and only defence witness, retiring Orkney Islands Council chief executive Alistair Buchan, Hill announced to the court that he would need an adjournment.
"I have been denied access to my documents," he said, as he clutched a stack of paperwork folders.
"I have had no access despite repeated requests. I am simply unable to proceed."
Asked to clarify why the documents he had with him were not sufficient, he explained that he had prepared questions for Buchan on his laptop, which he had been prohibited from using while in prison.
Taking this into account, sheriff Robert MacDonald granted an adjournment until 14 April.
Hill has been returned to custody meantime. The trial continues.
Sarah Sutherland/Orcadian
Space2face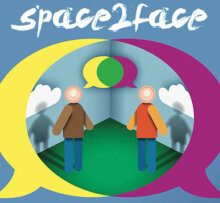 Space2face Shetland is an independent and confidential service which uses Restorative Justice and the arts to bring those harmed by crime or conflict and those responsible for the harm into communication. We enable everyone affected by a particular incident to play a part in repairing the harm and finding a positive way forward.
If you would like to reach out to us, please contact us via e-mail info@space2face.org or mobile 07564 832467.
If you would like to know more, visit our website www.space2face.org, or our Facebook page #space2faceshetland.
---
The project is also currently fundraising to secure office space in Shetland's brand-new creativity and wellness centre, The Mission. If you're interesting in getting involved, or making a donation, head over to www.space2face.org/how-you-can-help