Court / Teenager released from custody after lengthy car chase on Saturday night
A TEENAGER from Shetland's North Mainland has been put under curfew pending sentencing after admitting a string of motor offences including dangerous driving.
Rather than stopping when police in an unmarked vehicle wanted to speak to him because of a faulty headlight at Lerwick's Ladies Drive on Saturday evening, Daniel Johnson, from Sullom, accelerated and sped out of town with police in close pursuit.
Procurator fiscal Duncan Mackenzie said the 19-year-old was heading towards Scalloway at an excessive speed which was unsafe for the wet and windy weather conditions.
The fiscal said that Johnson was doing in excess of 90 miles per hour, without police being able to close the gap. At one stage he was double the speed limit and following him became unsafe.
As more police units were called to help, Johnson headed for Trondra and disappeared from sight for a while.
The fiscal said Johnson then appeared from behind a shed and was speeding back in the opposite direction.
At the single track Trondra bridge he had to stop to allow another vehicle to cross the bridge. When police pulled up in front of him, he reversed excessively.
When a local police officer approached his vehicle from the opposite direction, the teenager left his vehicle and ran off into the field.
With the atrocious weather on Saturday night police became concerned for Johnson's wellbeing and the coastguard was asked for help to locate him in the darkness.
It was only when police were able to obtain a phone number for the 19-year-old that they were able to speak to him. He subsequently handed himself in and coastguard volunteers were stood down before a search commenced.
Appearing from custody at Lerwick Sheriff Court on Monday afternoon, Johnson admitted five charges, including dangerous driving, driving while disqualified, failing to stop when instructed to do so and taking away a vehicle without the consent of the owner.
Johnson was released on bail but has to follow a tight curfew that requires him to be at his home address every day between 10.30pm and 5am.
He will be back at court for sentencing on 21 December.
Space2face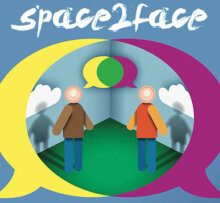 Space2face Shetland is an independent and confidential service which uses Restorative Justice and the arts to bring those harmed by crime or conflict and those responsible for the harm into communication. We enable everyone affected by a particular incident to play a part in repairing the harm and finding a positive way forward.
If you would like to reach out to us, please contact us via e-mail info@space2face.org or mobile 07564 832467.
If you would like to know more, visit our website www.space2face.org, or our Facebook page #space2faceshetland.
---
The project is also currently fundraising to secure office space in Shetland's brand-new creativity and wellness centre, The Mission. If you're interesting in getting involved, or making a donation, head over to www.space2face.org/how-you-can-help