Court / Case of dangerous driving 'of the highest level' leads to jail term and lengthy disqualification
A THIRTY four year old man from Fort William who drove repeatedly and deliberately at marked police vehicles during a nighttime car chase in Lerwick has been sent to prison for 20 months and banned from the road for almost seven years.
Sentencing Amir Abu-Al-Timen, whose address was given at Grampian Prison, sheriff Ian Cruickshank said he had never seen a similar case of dangerous driving in his entire legal career spanning more than 30 years.
Abu-Al-Timen appeared from custody at Lerwick Sheriff Court on Thursday and pleaded guilty to charges of threatening or abusive behaviour, dangerous driving and assaulting a police officer.
It all started in the Vadill housing estate in the early hours of 29 March where Abu-Al-Timen was seen and heard shouting abuse, banging and eventually smashing the window of a flat belonging to his former partner. 
He also drove his vehicle deliberately into her parked car causing extensive damage.
When police arrived Abu-Al-Timen fled the scene in a vehicle, driving directly at police cars trying to stop him.
A wild chase through Lerwick began which saw him reaching speeds of 70 and even 80 miles per hour in North Road, Lochside, South Road, Ladies Drive and other locations.
He admitted driving repeatedly at police vehicles, ramming parked vehicles, and breaking excessively in an attempt to cause pursuing police cars to collide.
Abu-Al-Timen eventually abandoned the car he was driving and could only be traced and arrested at an address in Sandveien in the afternoon of the same day.
During the arrest, the court heard, he assaulted a police officer by spitting at him.
Defence solicitor George Henry said his client had lost his temper and, "in the spur of the moment", decided to damage his former partner's car.
In response to the car chase, the solicitor said that "thankfully" nothing more serious had happened adding that it was "bad enough as it is".
Sheriff Cruickshank described the case as the "highest possible level of dangerous driving".
He told Abu-Al-Timen that he had shown utter disregard for public safety and in particular the safety of police officers in execution of their duties.
The sheriff said he had the power to impose a two-year jail sentence for dangerous driving but had to consider Abu-Al-Timen's plea.
He jailed him for 16 months on the dangerous driving charge, disqualified him from driving for six years and eight months and told Abu-Al-Timen that he had first to pass the extended test of competency to drive before being allowed back on the road.
Sheriff Cruickshank jailed him for a further eight months for the abusive behaviour charge, and issued a non-harassment order for two years in which he is not allowed to contact or attempt to contact the victim.
Assaulting the police officer resulted in an additional four months in prison.
However, the sheriff ruled that the first two custodial sentences will run concurrently while the jail term for the assault on a police officer will be added to the total, making it 20 months in prison backdated to when Abu-Al-Timen was first taken into custody on 30 March.
Court was delayed for two hours on Thursday morning due to a delay of Loganair's Edinburgh flight which had a prisoner escort on board.
Expressing his displeasure, Sheriff Cruickshank said the delay was hindering the "administration of justice". Defence solicitor George Henry told the court that his flight from Edinburgh the previous day was also delayed by three hours.
Space2face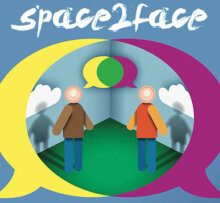 Space2face Shetland is an independent and confidential service which uses Restorative Justice and the arts to bring those harmed by crime or conflict and those responsible for the harm into communication. We enable everyone affected by a particular incident to play a part in repairing the harm and finding a positive way forward.
If you would like to reach out to us, please contact us via e-mail info@space2face.org or mobile 07564 832467.
If you would like to know more, visit our website www.space2face.org, or our Facebook page #space2faceshetland.
---
The project is also currently fundraising to secure office space in Shetland's brand-new creativity and wellness centre, The Mission. If you're interesting in getting involved, or making a donation, head over to www.space2face.org/how-you-can-help