Community / Bigton Collective secure community ownership of St Ninian's Church
A SOUTHEND community has taken ownership of its kirk 18 months after the Church of Scotland offered St Ninian's Church in Bigton for sale.
The Church of Scotland is in the process to disposing 20 of its 31 church buildings in Shetland as part of a restructure of its parishes.
The keys to St Ninian's Church were handed over to the Bigton Collective by the Rev Lynn Brady last week after the sale was finalised earlier in the month.
The collective secured £64,000 from the Scottish Land Fund to help buy the building to turn it into a multipurpose community facility.
The new ownership got off to a musical start when on Sunday the kirk was filled with voices for a singing workshop as part of the Culture Collective programme supported by Shetland Arts.
Wendy McConnachie from the Bigton Singers said: "The workshop on Sunday was excellent. It was so lovely to be able to be together and sing again in a group. The great acoustics in the kirk made it all the more special."
Bigton Collective is planning an open event on 20 March where people will have the opportunity to come in for a look around the building, have a cup of tea and light a candle if they choose.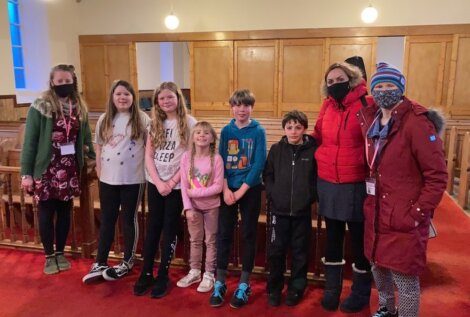 Alice Ritch of Bigton Collective said: "We are honoured to be custodians of this beautiful building for the next phase of its life and sincerely hope the building will continue to be a place of inspiration, joy, comfort, music and human connection for us all – and for the next 100 years."
A memory board will be set up so people can share stories, pictures and anecdotes about the kirk and any ideas, hopes and concerns they might have for the future.
There will also be a chance to hear a new song Bigton Bell that has been written to commemorate this new phase of the building.
Ritch added: "Thank you for believing in our vision, for your kind words and encouragement and to everyone who donated to our Crowdfunder.
"Also thank you to the Church of Scotland members who have tended to the building for so many years. We are so grateful to have this opportunity and to live in such a warm, positive and supportive community."
If anyone would like to contribute to the next stage of the project or would like to make a regular donation to support Bigton Collective activities, follow this link.
Become a supporter of Shetland News
Shetland News is asking its many readers to consider start paying for their dose of the latest local news delivered straight to their PC, tablet or mobile phone.
Journalism comes at a price and because that price is not being paid in today's rapidly changing media world, most publishers - national and local - struggle financially despite very healthy audience figures.
Most online publishers have started charging for access to their websites, others have chosen a different route. Shetland News currently has  over 540 supporters  who are all making small voluntary financial contributions. All funds go towards covering our cost and improving the service further.
Your contribution will ensure Shetland News can: -
Bring you the headlines as they happen;
Stay editorially independent;
Give a voice to the community;
Grow site traffic further;
Research and publish more in-depth news, including more Shetland Lives features.
If you appreciate what we do and feel strongly about impartial local journalism, then please become a supporter of Shetland News by either making a single payment or monthly subscription.
Support us from as little as £3 per month – it only takes a minute to sign up. Thank you.
Support Shetland News
Already a supporter? Sign in to hide this message.