Court / Three drivers banned from the roads
A TWENTY one year old man who seriously injured another man after crashing into him while driving on the wrong side of the roads has been banned from driving for 21 months and ordered to carry out 210 hours of unpaid work.
Ronan Wark, of Lerwick's Harbour Street, previously admitted causing injuries to the man by driving dangerously at the Black Gaet on 17 February last year.
mobile/post-mobile/0
He entered the B9073 road from its junction with the A970 road at Scalloway and the other driver was unable to take evasive action to avoid the collision.
Wark was sentenced on Wednesday at Lerwick Sheriff Court, which had previously heard that in the immediate aftermath he had appeared more concerned about damage to his new car than the wellbeing of his victim.
The man, who is self-employed, missed out on six months of work and has undergone extensive physiotherapy after sustaining a serious leg injury.
mobile/post-mobile/1
Defence agent Tommy Allan said there was "no valid reason" to explain his client's driving other than that he may have been distracted by financial worries at the time.
There were no aggravating features such as excessive speed, dangerous overtaking or any evidence of alcohol or other drugs.
While the crown's account characterised Wark as having been "nonchalant" following the accident, Allan said his client had reacted with "great shock" when the victim impact statement was read out to him.
He said Wark accepted responsibility for his crime, was genuinely remorseful and had been "unable to face getting back behind the wheel" since the incident.
mobile/post-mobile/2
Sheriff Cruickshank said the case was "almost incomprehensible" and paid tribute to the victim for facing the difficulties he has with "incredible stoicism".
He imposed a community payback order with a supervision requirement for 15 months and ordered him to complete 210 hours of work within a year in addition to his disqualification.
---
A FIFTY eight year old man who drove while he was four times the legal alcohol limit has been banned from the road for 16 months and fined over £1,000.
Hylton Henry, of Kulster, Aith, previously pleaded guilty to the offence, which took place on the A970 near the Tingwall Airport junction on 8 March last year.
Lerwick Sheriff Court heard on Wednesday that Henry, who is a former coxswain of the Aith lifeboat, had gone off the road and his vehicle had smashed through a roadside fence.
Procurator fiscal Duncan Mackenzie said police found him to be very unsteady on his feet, "clearly very drunk and smelling strongly of alcohol".
He was arrested and found to have 200mg of alcohol in 100ml of blood. The legal limit is 50mg.
The incident took place at around 6.30pm on a Monday evening at a time of relatively busy traffic, which Mackenzie said meant the "potential for serious risk of injury or death to other road users was high indeed".
mobile/post-mobile/3
Representing himself, Henry said he wanted to apologise for his behaviour and said the incident had "hopefully led to improvements in my life" after what had been a "difficult" few years for him personally.
Sheriff Ian Cruickshank said the level of alcohol involved meant he faced a fine of £1,000, with an additional £40 victim surcharge.
He disqualified Henry from holding or obtaining a driving licence for 16 months, which will be reduced by four months if he completes a drink drivers' rehabilitation course.
---
A MAN who admitted driving his van through a traffic island while unfit through drink or drugs has been fined £900 and disqualified for a year.
Forty two year old Ryan Inkster, of Bridgend, Burra, pleaded guilty to the offence, which occurred on the junction between the B9074 road at East Voe and the A970 road at Scalloway on 12 October last year.
He also admitted driving without due care and attention, failing to maintain control of his van and allowing it to collide with the traffic island, causing "significant damage" to both the traffic island and his vehicle.
Inkster also admitted driving without a valid licence after his had been revoked in August 2018.
Mackenzie said Inkster had carried on driving to the nearby Skord quarry following the collision and was "clearly under the influence of some intoxicant" when he got out of the van.
He then drove back into Scalloway and was arrested when police caught up with Inkster. He was swearing, "slurring his speech" and had a "glazed look in his eye", the fiscal said.
Representing himself, Inkster said he accepted the charges but had no recollection of the incident but was convinced he had not taken any illicit substances.
He "genuinely cannot remember what had happened" and had memory blanks for the whole day.
Space2face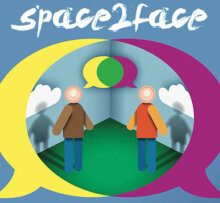 Space2face Shetland is an independent and confidential service which uses Restorative Justice and the arts to bring those harmed by crime or conflict and those responsible for the harm into communication. We enable everyone affected by a particular incident to play a part in repairing the harm and finding a positive way forward.
If you would like to reach out to us, please contact us via e-mail info@space2face.org or mobile 07564 832467.
If you would like to know more, visit our website www.space2face.org, or our Facebook page #space2faceshetland.
---
The project is also currently fundraising to secure office space in Shetland's brand-new creativity and wellness centre, The Mission. If you're interesting in getting involved, or making a donation, head over to www.space2face.org/how-you-can-help