Court / Trial finds man from Newcastle guilty of controlling behaviour
A THIRTY six year old man, originally from the Newcastle area, has been found guilty of controlling and abusive behaviour towards a former partner following a three hour trial at Lerwick Sheriff Court on Thursday morning.
Sentence on Mark Gilhespy, who had an address in Cunningsburgh at the time the offences were committed, has been adjourned until 8 June to allow time for criminal justice and restriction of liberty reports to be produced.
Gilhespy was found guilty of seeking to control who his partner was in contact with, uttering offensive and threatening remarks and adapting an aggressive demeanour towards her, repeatedly seizing her on the body and repeatedly preventing her from leaving, all to her injury, and all committed during a two-month period between 7 August and 3 October last year, at her address in Lerwick.
The original charge against Gilhespy was twice amended during the trial, and allegations that the assault was committed at his Cunningsburgh home were removed after the sheriff said that he had "reasonable doubt" as to what had happened there.
The trial centred around the evidence of the Crown's main witness, Gilhespy's ex-partner, who was cross examined via videolink.
The court heard how Gilhespy's behaviour towards his partner at the time had become increasingly more controlling, including persistent phone calls while she was at work, as well as threats and unfounded accusations.
She told the court that she felt distressed and scared.
On one occasion towards the end of the relationship, Gilhespy physically stopped her from entering her house after a colleague of hers had given her a lift home. The argument continued the following morning.
Defending Gilhespy, solicitor Tommy Allan said it was his client's position that he had defended himself against her aggression.
The court also heard recordings of voicemails in which Gilhespy made threats and called her names. These were left on her mobile after they had split up in early October.
Finding Gilhespy guilty of acting in a controlling manner, the sheriff felt he had been given enough corroborating evidence to convict.
"I heard her evidence, and in the vast majority I find her evidence credible and reliable," sheriff Cruickshank said.
Gilhespy, of Roseberry Terrace, Boldon, Colliery, Tyne on Wear, has been excused of appearing at court for sentencing. At this time the sheriff will also pass sentence on three motoring offences Gilhespy had pleaded guilty to at an earlier occasion.
Bail has been continued and the sheriff said he will continue consider an application for a non-harassment order.
Space2face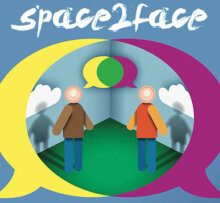 Space2face Shetland is an independent and confidential service which uses Restorative Justice and the arts to bring those harmed by crime or conflict and those responsible for the harm into communication. We enable everyone affected by a particular incident to play a part in repairing the harm and finding a positive way forward.
If you would like to reach out to us, please contact us via e-mail info@space2face.org or mobile 07564 832467.
If you would like to know more, visit our website www.space2face.org, or our Facebook page #space2faceshetland.
---
The project is also currently fundraising to secure office space in Shetland's brand-new creativity and wellness centre, The Mission. If you're interesting in getting involved, or making a donation, head over to www.space2face.org/how-you-can-help