Court / Unpaid work for unpaid fine
A YOUNG man from Lerwick was ordered to carry out 140 hours of unpaid work after admitting he paid only a tiny fraction of two fines, which were totalling £1,400. 
Wojciech Malecki of 19 Nordavatn, appeared from custody at Lerwick Sheriff Court on Friday after he had failed to turn up for court two days earlier.
The court heard that of the £1,400 only £30 had been paid.
The first fine of £600 was relating to a conviction dating back to December 2017 for Class A drug possession and motoring offences.
The 32 year old was fined a further £800 in October 2018, this time for a drink driving offence.
Defending, solicitor Tommy Allen said his client had not been aware of the date of his court appearance on Wednesday, and when he realised a day later had handed himself in.
He said his client could offer paying the two fines at £10 a fortnight, but Sheriff Ian Cruickshank dismissed that as "not much of an offer".
He told Malecki that his conduct was "unacceptable" and "dismal", adding that the law only allowed him to send Malecki to jail for up to 27 days, meaning he could potentially out of prison after 13 days. That, the sheriff said, was a poor use of public money.
Instead the sheriff revoked the previous fines and told Malecki that he had three months to carry out a total of 140 hours of unpaid work.
And he warned Malecki that if he fails to comply with this new order, then he could impose a jail sentence of up to three months.
Space2face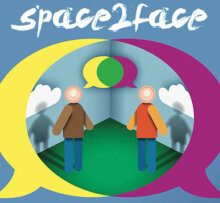 Space2face Shetland is an independent and confidential service which uses Restorative Justice and the arts to bring those harmed by crime or conflict and those responsible for the harm into communication. We enable everyone affected by a particular incident to play a part in repairing the harm and finding a positive way forward.
If you would like to reach out to us, please contact us via e-mail info@space2face.org or mobile 07564 832467.
If you would like to know more, visit our website www.space2face.org, or our Facebook page #space2faceshetland.
---
The project is also currently fundraising to secure office space in Shetland's brand-new creativity and wellness centre, The Mission. If you're interesting in getting involved, or making a donation, head over to www.space2face.org/how-you-can-help