Court / Sheriff court round-up
A CARE worker who misjudged how much alcohol was in her system before driving home has been banned from driving for a year and fined £350.
Collette Hunter, 52, of Hardbrake Place, Dunrossness, admitted driving on the A970 at Brindister on 11 July this year with 38 microgrammes of alcohol in 100ml of breath. The legal limit is 22 microgrammes.
Procurator fiscal Duncan Mackenzie said police on patrol had stopped her regarding a minor road traffic infraction and had detected the smell of alcohol, after which she failed a roadside screening test.
Defence agent Tommy Allan explained his client had gone to visit a friend and had two alcoholic drinks poured for her by a householder.
After visiting pubs where she did not consume any more alcohol she had been intending to stay overnight at the friend's house, but when she went to collect her bag from the car she decided instead to drive home.
Allan said it was not a case where she had intentionally driven knowing she was over the limit and the offence would carry a "fairly heavy price for her".
---
A THIRTY seven year old man has been banned from the road for eight months and fined £200 after pleading guilty, "not for the first time", to driving without insurance.
Andrew Flaws, of Lerwick's Hill Grind, admitted to driving on the A970 near the Lerwick Observatory and Oversund Road without insurance and without holding a valid licence.
Mackenzie described Flaws as a "recidivist" with a habit of buying cheap cars and not insuring them. His latest offence was "not the first time he has been caught in similar circumstances".
Defence agent Gregor Kelly acknowledged his client had appeared as recently as June for a similar offence, for which he received a six-month disqualification.
He said the danger of driving without insurance had been impressed upon Flaws.
---
A MAN who failed to stop for police after they spotted him driving carelessly has been fined a total of £400 and given three penalty points.
Twenty one year old Luke Bryant, of Houlland Road, Sandwick, admitted driving without due care or attention by turning onto Lerwick's South Road from a slip road an excessive speed, causing him to encroach onto the wrong side of the road.
Bryant claimed he had been trying to avoid hitting a black cat ("very unlucky", noted Sheriff Iain Cruickshank) but unfortunately his vehicle had come onto the road in the path of an oncoming police car.
The police vehicle was a short distance away and so was not impeded, but when a constable signalled for Bryant to stop he failed to do so.
He claimed he did not realise police could stop drivers from in front of their vehicle as well as behind.
Space2face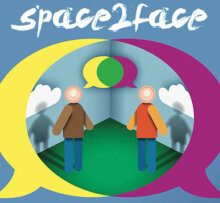 Space2face Shetland is an independent and confidential service which uses Restorative Justice and the arts to bring those harmed by crime or conflict and those responsible for the harm into communication. We enable everyone affected by a particular incident to play a part in repairing the harm and finding a positive way forward.
If you would like to reach out to us, please contact us via e-mail info@space2face.org or mobile 07564 832467.
If you would like to know more, visit our website www.space2face.org, or our Facebook page #space2faceshetland.
---
The project is also currently fundraising to secure office space in Shetland's brand-new creativity and wellness centre, The Mission. If you're interesting in getting involved, or making a donation, head over to www.space2face.org/how-you-can-help