Court / Man fined after 'alarming behaviour' in Tesco fruit aisle
A MAN has admitted potentially exposing members of the public and employees of Tesco in Lerwick to coronavirus by taking a bite out of an orange, spitting it into his hand and throwing it on the supermarket's bananas section.
Stephen Burnett, of Lerwick's Haldane Burgess Crescent, also admitted stealing items worth £93.75 from the supermarket on the same day on 9 April.
mobile/post-mobile/0
The 56-year-old was fined a total of £480 for the offences at Lerwick Sheriff Court on Thursday, while he was told to pay £30 in victim surcharges.
Defence agent Tommy Allan said his client had "no explanation" for his actions but suggested a problem with self-administering medication may have impaired his behaviour.
The incident with the orange, which took place in the early stages of the coronavirus pandemic, happened during the "shoplifting spree", procurator fiscal Duncan Mackenzie said.
He said Burnett entered the supermarket at around 5.25pm and stayed for roughly 45 minutes.
mobile/post-mobile/1
After buying cigarettes and a phone top-up Burnett went into the fruit and veg aisle, the court heard.
Mackenzie said Burnett picked up a bag of oranges and took a bite out of one of them.
The court heard that he then spat the pips out into his hand and threw them into a section with bananas.
Mackenzie said Burnett then made his way around the shop, placing some items into bin liners contained within his trolley, before leaving without paying. The items were never recovered.
Burnett admitted taking quantities of fresh fruit, bakery items, dairy products, soft drinks, tinned and frozen desserts, three packs of tea light candles, two packs of lighters, three packs of tinfoil and a pair of reading glasses.
mobile/post-mobile/2
He also pleaded guilty to culpably and recklessly expectorating into his hand and throwing the matter into a display of fresh fruit, thereby potentially exposing members of the public and employees to coronavirus.
Allan said Burnett was taking a lot of medication at the time which he self-administers.
Having seen video footage of the Tesco trip, Allan said Burnett was "clearly under the effects of something".
"For part of it he was sitting in the store watching people go by," he said.
Allan suggested his client, who has diabetes, could have been under a hyperglycemic attack at the time.
The solicitor said there was "no suggestion that he has, or had, Covid-19".
Sheriff Robert Mcdonald described the incident as "rather absurd behaviour" instead of an attempt to potentially spread Covid-19 or cause harm to anyone.
"That kind of behaviour at the moment is particularly alarming to anyone who would have seen it," he added.
Space2face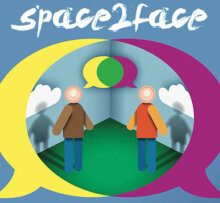 Space2face Shetland is an independent and confidential service which uses Restorative Justice and the arts to bring those harmed by crime or conflict and those responsible for the harm into communication. We enable everyone affected by a particular incident to play a part in repairing the harm and finding a positive way forward.
If you would like to reach out to us, please contact us via e-mail info@space2face.org or mobile 07564 832467.
If you would like to know more, visit our website www.space2face.org, or our Facebook page #space2faceshetland.
---
The project is also currently fundraising to secure office space in Shetland's brand-new creativity and wellness centre, The Mission. If you're interesting in getting involved, or making a donation, head over to www.space2face.org/how-you-can-help