Court / Jury finds MacDougall and Smith guilty of murdering Tracy Walker
FOLLOWING a two-week trial Ross MacDougall and Dawn Smith have both been found guilty of murdering Tracy Walker in Lerwick last summer. 
A jury at the High Court in Edinburgh delivered guilty verdicts on Thursday afternoon. Both now face life sentences.
Smith, 29, has also been convicted of possessing a knife, while MacDougall, 32, has been found guilty of attempting to pervert the course of justice.
Both were cleared of a charge of assaulting another man.
Forty-year-old Walker, a mother of two, was brutally murdered at Ladies Drive in the early hours of 30 July last year during a failed robbery attempt by Macdougall and Smith when they were demanding cash for drugs.
A jury heard how Smith handed MacDougall a fish filleting knife which she took from her step-father's home in the town.
The pair then confronted Tracy Walker and MacDougall struck her on the head with a rock before strangling her and repeatedly stabbing her in the throat.
Jurors heard how following the attack, Smith stood for 10 minutes and watched her victim die before she and MacDougall left the scene and took a ride in her co-accused's car.
The verdicts came during the fifteenth day of proceedings. It is thought to be only third murder to have been committed in Shetland in the past 50 years.
Following the verdict, councillor for the area in which the murder had taken place, Malcolm Bell, a former police inspector, described the crime as "senseless" and said the community's thoughts were "very much with those she has left behind".
The council convener said: "This was a senseless and brutal murder of a defenceless woman which horrified not only her friends and relatives but also the entire community.
"Serious violent crime is, thankfully, very rare in Shetland and we are fortunate to live in a community that is both safe and tolerant.
"However, as this case demonstrates we are not immune from it.
"I would like to express my gratitude for the police investigation which promptly reassured the public and today ultimately ensured justice was done. "
During proceedings, the court heard how both MacDougall and Smith spent the evening of 29 July 2019 trying to score drugs. However, they didn't have any cash.
The pair learned that Tracy Walker was going to buy drugs and had £100 of cash in her. The pair then hatched a plan to get their hands on Tracy's cash.
Police managed to collect enough evidence to bring the pair to court.  Following their arrest, they were taken into custody.
The proceedings will continue tomorrow morning.
More to follow…
Court report by James Mulholland of Edinburgh Courts Press Agency
Space2face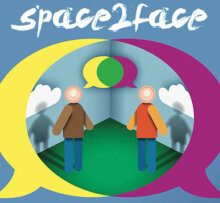 Space2face Shetland is an independent and confidential service which uses Restorative Justice and the arts to bring those harmed by crime or conflict and those responsible for the harm into communication. We enable everyone affected by a particular incident to play a part in repairing the harm and finding a positive way forward.
If you would like to reach out to us, please contact us via e-mail info@space2face.org or mobile 07564 832467.
If you would like to know more, visit our website www.space2face.org, or our Facebook page #space2faceshetland.
---
The project is also currently fundraising to secure office space in Shetland's brand-new creativity and wellness centre, The Mission. If you're interesting in getting involved, or making a donation, head over to www.space2face.org/how-you-can-help