Court / Murder trial hears from witness asked to provide change of clothes
A WITNESS has told the High Court in Edinburgh that a man standing trial for murder looked "stressed" when he told him he needed a change of clothes after being involved in a "fight".
Kyle Swannie, 24, told a jury on Thursday how Ross MacDougall, 32, looked "unrestful" when he came to his home in Lerwick in the early hours of 30 July 2019.
The court heard Swannie say MacDougall was in the company of 28-year-old co-accused Dawn Smith.
The two are standing trial charged with murdering a woman called Tracy Walker on the same date last year.
Swannie, from Lerwick, told the court that MacDougall – who had visited the property on a number of previous occasions – did not appear to be acting normally when he turned up at around 5am.
He said: "He looked stressed. He was just kinda frantic. He was usually chirpy and happy."
When prosecution lawyer Steven Borthwick asked Swannie to explain how MacDougall was behaving, he replied: "Unrestful. He couldn't rest if that makes sense. He couldn't sit still. He was pacing about.
"I knew something was up. It was a very weird time to be coming to my door for a start."
Swannie was giving evidence on the seventh day of proceedings against MacDougall and Smith, who both deny murdering Walker and four other charges.
On Thursday, Swannie told Borthwick he had been sleeping when he heard knocking on his bedroom window.
He had also heard knocking on the door and a voice calling his name. When he opened the door MacDougall and Smith were both there, and MacDougall wanted to come in.
Swannie said: "He said he had been in a fight and he needed a change of clothes."
He agreed to the request and gave MacDougall jogging bottoms and a Hugo Boss polo t-shirt.
He also gave him a Tesco carrier bag which MacDougall used to put his other clothes in.
Swannie said that later the same day he was about to start performing community service by cleaning a beach outside Lerwick.
However he learned there had been a "killing" and informed his community service supervisor that he had to contact the police.
Describing the conversation with the supervisor, Swannie said: "I said 'there's been a killing and you need to go back to the town because I think the people were in my house'."
Asked why he wanted to return to Lerwick, Swannie replied: "I wanted to get into town to give my statement to the police because they would soon be looking for me."
Swannie then spoke to the police, the court was told.
Both MacDougall and Smith have entered not guilty pleas to the murder charge and four other charges on the indictment.
The trial before judge Lord Uist continues.
Copy from James Mulholland of Edinburgh Courts Press Services
Space2face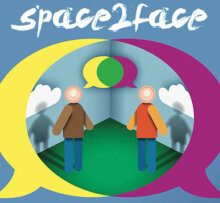 Space2face Shetland is an independent and confidential service which uses Restorative Justice and the arts to bring those harmed by crime or conflict and those responsible for the harm into communication. We enable everyone affected by a particular incident to play a part in repairing the harm and finding a positive way forward.
If you would like to reach out to us, please contact us via e-mail info@space2face.org or mobile 07564 832467.
If you would like to know more, visit our website www.space2face.org, or our Facebook page #space2faceshetland.
---
The project is also currently fundraising to secure office space in Shetland's brand-new creativity and wellness centre, The Mission. If you're interesting in getting involved, or making a donation, head over to www.space2face.org/how-you-can-help