Court / Prison officer gives evidence at murder trial
A WOMAN has told of how she felt "haunted" after hearing a younger woman who is on trial accused of murder making a "smug" remark about the alleged crime during a flight.
The prison escort officer, 50, said she sat beside Dawn Smith, 28, during a journey from Sumburgh to Aberdeen last August.
The High Court in Edinburgh was told by the woman on Wednesday that she was working as a prison escort officer last year.
As part of her duties she helped transfer Smith and 32-year-old Ross MacDougall from Shetland to the Scottish mainland on 1 August 2019.
Both are accused of murdering a woman called Tracy Walker and were to be held in HMP Grampian near Aberdeen.
The prison escort officer said Smith spoke to her during the flight, and she contacted the police after hearing the remark. 
The witness told prosecution lawyer Steven Borthwick that Smith gestured towards MacDougall as she made the remark.
"She said 'we are going to spend the next 10 to 15 years together for something I've done," she told jurors, describing Smith's statement as "smug".
"It haunted me afterwards. It went round and round my head," she added.
The witness was giving evidence on the sixth day of proceedings against Smith and MacDougall.
The pair deny murdering Walker at Ladies Drive, Lerwick on 30 July 2019. They are also standing trial on four other charges.
The witness said she was handcuffed to Smith and they sat in the back row of the plane. A colleague sat with MacDougall on the row in front. The flight departed Sumburgh at 7.40pm.
She said Smith also remarked about media interest surrounding the case during the flight.
"She said she was surprised there was no press, to my joy there was no press, I was elated there was no press."
The prison escort officer spoke to officers investigating Walker's death upon returning from the Scottish mainland on 3 August 2019.
In her statement, police recorded the remark allegedly made by Smith as "we are going to spend at least between 10 to 15 years for something I have done".
She told the court she believed the remark made in the police statement was a more accurate reflection of what Smith had said than what jurors had been told earlier.
Smith's advocate Paul Nelson said the witness had misheard what she had said.
At the end of the remark which jurors had been told about, Smith had actually used the phrase "I have not done", he said.
Nelson asked the witness: "Are you mistaken?" She replied: "No."
MacDougall and Smith have entered not guilty pleas to all charges on the indictment.
The trial before judge Lord Uist continues. 
Copy by Edinburgh Courts Press Services
Space2face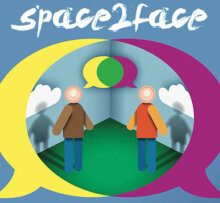 Space2face Shetland is an independent and confidential service which uses Restorative Justice and the arts to bring those harmed by crime or conflict and those responsible for the harm into communication. We enable everyone affected by a particular incident to play a part in repairing the harm and finding a positive way forward.
If you would like to reach out to us, please contact us via e-mail info@space2face.org or mobile 07564 832467.
If you would like to know more, visit our website www.space2face.org, or our Facebook page #space2faceshetland.
---
The project is also currently fundraising to secure office space in Shetland's brand-new creativity and wellness centre, The Mission. If you're interesting in getting involved, or making a donation, head over to www.space2face.org/how-you-can-help