Court / Murder trial hears from witness who made 999 call
THE TRIAL into the alleged murder of a woman in Lerwick last year has heard from a witness who made a 999 call after spotting her lying "motionless" near his home.
The High Court in Edinburgh heard Gary Latham say on Friday that he had gone up an alleyway at the side of his flat in Lerwick and found Tracy Walker lying on grass.
The 45-year-old said: "I went straight over to see if she was alright."
After phoning 999 Latham said he was given advice by the operator over what to do and was asked to give her mouth to mouth.
He said he was left feeling "hysterical, distraught…torn apart".
The witness was giving evidence on the third day of proceedings against Ross McDougall, 32, and Dawn Smith, 28.
The pair, from Lerwick, deny murdering Walker at Ladies Drive, Lerwick on 30 July 2019. They are also standing trial on four other charges.
Latham told the court that he previously lived at Ladies Drive in Lerwick after moving to Shetland in 2017 from England.
He said that in July last year, he was a heroin user. He said that on 29 July, MacDougall and Smith had been visitors to his flat.
Latham said at one point both of them seemed to be "irate". He said that they had been talking about how to get money "to score" and were talking about borrowing off someone or robbing someone.
Borthwick asked how they were behaving when they were having this conversation and he replied: "Almost giddy."
He said that he had already asked them to leave as he knew Walker was on her way over following an earlier phone call.
Latham said: "I just had a feeling there was going to be some trouble."
He said Walker had called again and he spoke to her. He told her to wait for half an hour.
Latham was asked why and replied: "Because I thought those two were going to try and rob her and take the money off her."
He said he received another call from Walker and he went down and told her to "get out the way" and he thought she agreed.
Latham said: "She said 'she was desperate she was rattling to get some drugs."
He said MacDougall and Smith left and he later repeatedly tried to call Walker.
Latham said he was in his flat with others and heard a commotion and muffled moaning coming from the direction of a grassy bank close to his property.
He said that when he went to the window he could just see the outline of MacDougall on top of someone else.
Latham agreed that he had told police in a statement that he had seen MacDougall "roaring with anger" and attacking someone.
Both MacDougall and Smith have entered not guilty pleas to all charges on the indictment.
The trial before judge Lord Uist continues.
Copy supplied by Edinburgh Court Press Services
Space2face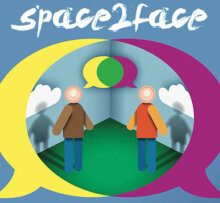 Space2face Shetland is an independent and confidential service which uses Restorative Justice and the arts to bring those harmed by crime or conflict and those responsible for the harm into communication. We enable everyone affected by a particular incident to play a part in repairing the harm and finding a positive way forward.
If you would like to reach out to us, please contact us via e-mail info@space2face.org or mobile 07564 832467.
If you would like to know more, visit our website www.space2face.org, or our Facebook page #space2faceshetland.
---
The project is also currently fundraising to secure office space in Shetland's brand-new creativity and wellness centre, The Mission. If you're interesting in getting involved, or making a donation, head over to www.space2face.org/how-you-can-help