Court / Prison term for violent behaviour towards police officers
A MAN from Lerwick who struggled so violently with police officers that they had to put on riot gear to enter his cell was given an 18 month prison sentence when he appeared at the town's sheriff court on Friday.
Appearing from custody, 39-year-old Craig Nelson, whose address was given as Grampian Prison, pleaded guilty to a charge of assaulting a police constable by spitting and attempting to bite him in the knowledge that he was infected with the hepatitis C virus.
Nelson also pleaded guilty to behaving in a threatening or abusive manner, obscuring the lens of a CCTV camera, urinating on a cell floor, and repeatedly struggling with police officers, aggravated by racial prejudice.
The court heard that between four and six police officers were required to deal with Nelson's behaviour during a four hour period after he had been arrested shortly after midnight on 25 October.
Police were called out after receiving reports that Nelson was shouting and banging on doors in the Ladies Drive area in Lerwick. He was found to be intoxicated and unsteady on his legs, while he had foam coming from his mouth.
Following an initial search, officers concerned with Nelson's mental health decided to take him to hospital but due to his aggressive behaviour they felt they had no alternative but to arrest him and take him to the police station.
Procurator fiscal Duncan Mackenzie said Nelson's behaviour was so aggressive that they had no choice but to restrain him and then carry him into the police station.
A doctor, attending to Nelson at the police station, was then the subject of racial abuse.
The fiscal said that at one stage officers were using riot shields and protective closing when entering Nelson's cell.
Defence solicitor Tommy Allan said his client claimed to have drunk one and a half litres of vodka and had no recollection of the incident and, referring to his long list of previous convictions, said that most of Nelson's adult life had been a struggle for him.
Allan said Nelson had been "desperate" at the time of the incident as he was struggling mentally and physically.
"He clearly was not able to control himself," the solicitor said, adding that his client would like to apologise for his conduct.
He confirmed that following treatment during his last term of imprisonment, his client was now free of the Hepatitis C virus, although that could not be said with certainty with regard to the time of the incident.
Sheriff Ian Cruickshank said there was no alternative to another period in jail as police officers should not be subjected to such behaviour.
He sentenced Nelson to 16 months in prison for the assault charge plus further 18 months for the second charge which carried on over an extended period.
Both sentences will run concurrently and are backdated to 26 October, the day Nelson was taken into custody.
Space2face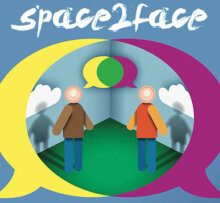 Space2face Shetland is an independent and confidential service which uses Restorative Justice and the arts to bring those harmed by crime or conflict and those responsible for the harm into communication. We enable everyone affected by a particular incident to play a part in repairing the harm and finding a positive way forward.
If you would like to reach out to us, please contact us via e-mail info@space2face.org or mobile 07564 832467.
If you would like to know more, visit our website www.space2face.org, or our Facebook page #space2faceshetland.
---
The project is also currently fundraising to secure office space in Shetland's brand-new creativity and wellness centre, The Mission. If you're interesting in getting involved, or making a donation, head over to www.space2face.org/how-you-can-help