Court / 'Hostile' confrontation in dead of night results in heavy fine
TWO MEN have been fined a combined £1,300 after being found guilty of behaving in a threatening or abusive manner when attending a house in the South Mainland late at night to confront another man.
Grant Redfern, 34, of Quoys Road, Lerwick and Kyle Drummond, 25, of Wester Skeld, had both denied the charge and were convicted following a trial at Lerwick Sheriff Court on Thursday.
The incident took place at a house in Quendale on 4 October last year. Redfern took a half-hour car journey, along with four others, shortly before midnight to confront one of his relatives regarding allegations he had heard about him.
Giving evidence to the trial, the female complainer said Redfern and Drummond had been "verbally aggressive", and she and her partner had felt they were being attacked in their own home, with a bottle being thrown that smashed against the wall of the house.
During an altercation which both sides agreed had been very brief, Redfern and Drummond countered that they had been chased away from the property by the two occupants wielding either pitchforks or garden forks.
The female complainant, meanwhile, said she had dislocated her finger during the incident.
A witness who had been asked to drive the group of men down to Quendale said that during the journey south it had felt like a "hostile situation".
Redfern insisted under cross-examination from procurator fiscal Duncan Mackenzie that he had simply attended the house looking for a verbal exchange with the man and was "absolutely not" seeking a physical confrontation.
He said he wanted his relative to know the allegations were "not going to go away" and "I thought he would at least speak to me about it". He had first heard of the allegations two days previously and conceded: "I'm angry about it all the time."
Drummond said he had tried to calm Redfern down and encouraged him to return to the car rather than knocking on the door of the house because the male complainer was "a very dangerous man".
Redfern's defence agent Tommy Allan said his client conceded that "on any view it was not clever to attend at that time of night", but argued it was not some "gang of youths that turned up in some sort of vigilante operation".
He said a conversation with his relative on the "very emotive subject" was one Redfern was "entitled to have".
Drummond's defence agent Liam McAllister said his client accepted the decision to travel to the property was "misjudged".
Mackenzie said the sheriff had to decide between "two quite distinct opposing camps" regarding how the incident had played out.
He said it was clearly not a "spontaneous, spur-of-the-moment decision" to travel a "considerable distance" from Lerwick and it was clear "the intent was hostile".
Sheriff Iain Cruickshank said he felt the circumstances were "quite sinister" as Redfern and Drummond had gone to "a fairly isolated property in the dead of night".
He convicted them of causing fear or alarm by turning up at the complainers' house late at night, behaving in a threatening or abusive manner and throwing a bottle at them.
Redfern was fined £800 with a victim surcharge of £40 and Drummond was fined £500 with a victim surcharge of £20.
Space2face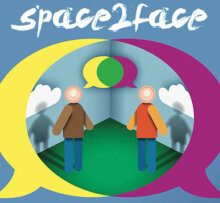 Space2face Shetland is an independent and confidential service which uses Restorative Justice and the arts to bring those harmed by crime or conflict and those responsible for the harm into communication. We enable everyone affected by a particular incident to play a part in repairing the harm and finding a positive way forward.
If you would like to reach out to us, please contact us via e-mail info@space2face.org or mobile 07564 832467.
If you would like to know more, visit our website www.space2face.org, or our Facebook page #space2faceshetland.
---
The project is also currently fundraising to secure office space in Shetland's brand-new creativity and wellness centre, The Mission. If you're interesting in getting involved, or making a donation, head over to www.space2face.org/how-you-can-help