Court / Tracy Walker murder trial adjourned until July
A JUDGE has postponed a trial of two people accused of murdering a woman in Shetland due to the continuing coronavirus crisis.
Lord Tyre said that proceedings against 31-year-old Ross MacDougall and Dawn Smith, aged 28, both formerly of Lerwick, could not advance due to the Covid-19 pandemic.
During a short hearing at the High Court in Edinburgh on Wednesday, Lord Tyre said: "The situation we find ourselves in, as it has been said over and over again, is an unprecedented one.
mobile/post-mobile/0
"It is out with the court's control for this to proceed to trial."
The two accused appeared at a procedural hearing in the case at the High Court in Glasgow last November.
On that occasion, a legal document detailed the charges facing MacDougall and Smith.
The two are accused with the murder of Tracy Walker on 30 July 2019 at Ladies Drive in Lerwick, Shetland.
Prosecutors claim that 40-year-old victim suffered blunt force trauma "by means unknown" had her neck compressed and was repeatedly struck with a knife.
mobile/post-mobile/1
It is also claimed that MacDougall and Smith tried to rob Walker of money.
The duo are further accused of assaulting a man at the same location on the same day. The charge includes claims they brandished a knife at him and did intend to rob him.
They are also accused of attempting to pervert the course of justice after the alleged killing.
MacDougall also faces a separate allegation of taking a car from a house in Lerwick.
The pair denied the allegations during the Glasgow hearing.
Another procedural hearing in the case will take place at the High Court in Glasgow on 15 July.
James Mulholland of Edinburgh Courts Press Services
Space2face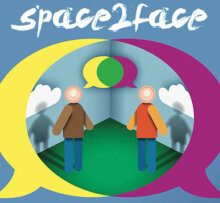 Space2face Shetland is an independent and confidential service which uses Restorative Justice and the arts to bring those harmed by crime or conflict and those responsible for the harm into communication. We enable everyone affected by a particular incident to play a part in repairing the harm and finding a positive way forward.
If you would like to reach out to us, please contact us via e-mail info@space2face.org or mobile 07564 832467.
If you would like to know more, visit our website www.space2face.org, or our Facebook page #space2faceshetland.
---
The project is also currently fundraising to secure office space in Shetland's brand-new creativity and wellness centre, The Mission. If you're interesting in getting involved, or making a donation, head over to www.space2face.org/how-you-can-help