Court / Community pay back for assault
A LERWICK man is to do 100 hours unpaid work after being found guilty of assaulting his partner and acting in a threatening and abusive manner.
Lerwick Sheriff Court heard video link evidence on Thursday from a woman that Barry Coutts attacked her after a friendly meal where the pair had drunk wine and chatted.
She said that things had taken a turn for the worse when Coutts, 41, of Grodians, accused her of being dishonest and cheating on him. He pulled her hair and threw her to the ground after she demanded that he leave.
Coutts, she said, had then grabbed her by the throat and punched her in the face as she was on the ground. She suffered bruises under her jaw and lost a temporary crown during the incident.
Afterwards she was "in a state of shock" and ran to her next door neighbour to try and and get her to make Coutts leave the house in central Lerwick.
The neighbour found Coutts sitting on the couch "calm but mad", she said in evidence, and he left the house soon after but waited around outside for a taxi.
After shouting and banging on doors and windows, Coutts was passed a bottle of wine through the cat flap at the suggestion of the victim's friend, who was talking to her on the phone
Coutts gave a different version of events on the night of 10 May. He said he had a casual sexual relationship with the complainer for about a year.
He claimed he had been attacked by the complainer, who struck him on the back of the head when he refused to leave the house. He had already called a taxi to take him home before the violent incident.
He said that he was not a violent man and had no criminal record of assault other than an offence dating from 2008.
But procurator fiscal Duncan Mackenzie got him to admit he had made a false statement as Coutts also had a fine for assault dating from 2017.
The trial a heard evidence from two further witnesses; one a policeman who had taken a statement from the victim and had interviewed Coutts.
Sheriff Philip Mann said that the case boiled down to which set of evidence to believe, adding that the complainer had been credible and reliable. He had also seen photographic evidence corroborating her story.
Finding Coutts guilty, he imposed a community payback order of 100 hours unpaid work, half of which was for the offence being aggravated by abuse of an ex partner.
He fined Coutts £150 for breaching a bail condition by texting the victim on 25 May, only three days after bail had been granted when he had appeared on petition for the assault.
The sheriff also banned Coutts from contacting or approaching his victim in any way for a period of three years.
Space2face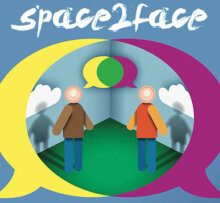 Space2face Shetland is an independent and confidential service which uses Restorative Justice and the arts to bring those harmed by crime or conflict and those responsible for the harm into communication. We enable everyone affected by a particular incident to play a part in repairing the harm and finding a positive way forward.
If you would like to reach out to us, please contact us via e-mail info@space2face.org or mobile 07564 832467.
If you would like to know more, visit our website www.space2face.org, or our Facebook page #space2faceshetland.
---
The project is also currently fundraising to secure office space in Shetland's brand-new creativity and wellness centre, The Mission. If you're interesting in getting involved, or making a donation, head over to www.space2face.org/how-you-can-help