Court / Teacher's prison sentence cut to 12 months on appeal
A FORMER teacher who was sent to prison for engaging in sex acts with two schoolgirls has had his prison sentenced reduced by three months following an appeal.
Kieran Malcolmson, of Sandwick, was given a 15 month sentence earlier this year following a trial at Aberdeen Sheriff Court.
His sentence has now been reduced to 12 months.
Jurors convicted the 36-year-old of being in a position of trust as a schoolteacher when he kissed and engaged in sexual activity with a girl while he was employed as a teacher at a school in Shetland.
Malcolmson was also found guilty of a similar offence of engaging in sexual activity with or directed towards another pupil at a school in 2018.
He kissed the girl on the mouth and repeatedly asked her to accompany him to a "dark and secluded area".
However, lawyers for Malcolmson believed that the sentence imposed on their client was excessive.
Lawyer Ann Ogg told judges at the Court of Criminal Appeal in Edinburgh last week that Malcolmson should have received a non-custodial sentence.
However, in a ruling issued on Tuesday, judges Lord Pentland and Lord Doherty concluded that Sheriff Philip Mann was correct to send Malcolmson to prison.
However, the judges also ruled that the sentence given to him Malcolmson was excessive when compared to people who had been convicted of similar offences.
Giving judgement, Lord Pentland said that Malcolmson would now serve 12 months for the crimes.
He wrote: "Young persons must be protected from sexual abuse and exploitation by persons entrusted with their care, welfare and education.
"Taking account of the aim and purpose of the legislative provisions, and all of the other relevant factors, we are satisfied that the Sheriff was right to take the view that the nature and gravity of the offences, taken together, could only properly be marked by the imposition of a custodial sentence.
"We are persuaded, however, that the length of the custodial term selected by the Sheriff was excessive.
"Having regard to the appellant's conduct and his culpability, and all of the aggravating and the mitigating factors, we consider that the appropriate period of imprisonment is one of 12 months.
"We take comfort from the fact that sentence appears to be in line with the sentences in the English cases to which we were referred."
Last week Ogg told the appeal that Malcolmson, could never teach again because of the convictions and that it will also impact on other aspects of his life.
She said his marriage had broken up and that he had to address an alcohol problem.
Ogg added: "My lords will see that not only was he held in high regard by the community – a small community but he also coached an adult football team, he was chair of the local community council – all of that was lost to him because of these convictions."
During his trial, Malcolmson's then lawyer John Keenan said Malcolmson did not groom his victims.
He added: "On the contrary, these appear to have been matters that occurred really fairly randomly on an impulsive basis."
Sheriff Mann jailed Malcolmson for 15 months and placed him on the Sex Offenders Register for 10 years.
The judgement also tells of how Malcolmson continues to deny any wrongdoing and maintains that he is still innocent of any wrongdoing.
Lord Pentland said that in all the circumstances, Sheriff Mann should have imposed a lesser custodial term on Malcolmson.
He wrote: "We shall accordingly quash the sentences imposed by the Sheriff and substitute for them a single cumulo sentence of 12 months' imprisonment."
Report provided by James Mulholland of Edinburgh Courts Press Services
Space2face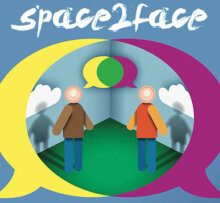 Space2face Shetland is an independent and confidential service which uses Restorative Justice and the arts to bring those harmed by crime or conflict and those responsible for the harm into communication. We enable everyone affected by a particular incident to play a part in repairing the harm and finding a positive way forward.
If you would like to reach out to us, please contact us via e-mail info@space2face.org or mobile 07564 832467.
If you would like to know more, visit our website www.space2face.org, or our Facebook page #space2faceshetland.
---
The project is also currently fundraising to secure office space in Shetland's brand-new creativity and wellness centre, The Mission. If you're interesting in getting involved, or making a donation, head over to www.space2face.org/how-you-can-help