Court / Man receives prison sentence for assault
Sheriff says 'domestic abuse, particularly premeditated domestic abuse, will not be tolerated'
A MAN who assaulted his ex-partner on a Lerwick street and threatened her with a hammer has been sent to prison for 12 months.
Stephen Walterson, of Sandveien, Lerwick, was sentenced at the town's sheriff court on Wednesday.
Sheriff Ian Cruickshank said he hoped a custodial sentence would "amplify the message to others that domestic abuse, particularly premeditated domestic abuse, will not be tolerated".
mobile/post-mobile/0
Walterson previously admitted assaulting the women on Bruce Crescent on 27 February to her injury and brandishing a hammer at her.
The 51-year-old also pleaded guilty to behaving in a threatening or abusive manner.
Procurator fiscal Duncan Mackenzie said prior to the incident that Walterson had told someone, at around 6pm, that he "might do something bad" to the woman – and when this was raised by the other person he "armed himself with a hammer", concealing the item in his clothes.
Mackenzie told court that Walterson then went on foot to find the woman, who had "by chance" just left her own house.
mobile/post-mobile/1
However, Walterson encountered her on the street and shouted at her: "Do you want me to batter you now?"
The court heard that the man brandished the hammer at her, but someone she was with removed the item from him.
That action had "no discernible effect" on Walterson, Mackenzie said, as he then assaulted the woman and pinned her against a wall.
The court heard that the woman fell to the ground, but he continued to punch her on the head.
A passing motorist noticed the assault and turned around to try to help, as did another member of the public, who caught Walterson's attention.
mobile/post-mobile/2
Walterson ultimately walked off and the motorist called the police, with officers arriving shortly after to find the man en route back to his home.
The woman was also taken to hospital by ambulance, Mackenzie added, while Walterson admitted to police "I'm the man you are looking for" after they caught up with him.
The fiscal told the court that the woman received swelling, bruising and cuts to her left eye, as well as bumps on her head.
"The physical injuries are nothing compared to the emotional trauma that this incident has caused her," Mackenzie said.
Defence agent Tommy Allan admitted "there is not a great deal I can say in mitigation".
"There can be no justification for acting in the way that he did and Mr Walterson knows that," he added.
The solicitor said his client "carries the guilt with him every day" of the effect his actions caused.
He suggested that a community payback order could be a sentencing option, encouraging the sheriff to take into account Walterson's early plea and his lack of a "significant record".
Sheriff Cruickshank described the offence as an "incredibly serious matter".
He said he had "no doubt" that Walterson left his house with the hammer to cause "serious harm" to the woman.
The sheriff ruled that there was no alternative to custody and gave Walterson a total of 12 months in prison.
He also imposed a five-year non-harassment order, with the sheriff granting a crown motion for the forfeiture of the hammer.
Space2face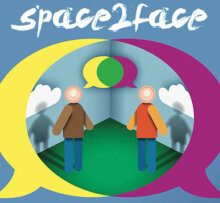 Space2face Shetland is an independent and confidential service which uses Restorative Justice and the arts to bring those harmed by crime or conflict and those responsible for the harm into communication. We enable everyone affected by a particular incident to play a part in repairing the harm and finding a positive way forward.
If you would like to reach out to us, please contact us via e-mail info@space2face.org or mobile 07564 832467.
If you would like to know more, visit our website www.space2face.org, or our Facebook page #space2faceshetland.
---
The project is also currently fundraising to secure office space in Shetland's brand-new creativity and wellness centre, The Mission. If you're interesting in getting involved, or making a donation, head over to www.space2face.org/how-you-can-help