Court / BP fined £400,000 for Sullom Voe incident
OIL company BP has been fined £400,000 for a health and safety breach at Sullom Voe Terminal that could have put an employee in serious danger.
Lerwick Sheriff Court heard on Wednesday that an estimated 3.8 tonnes of unstabilised crude oil and 257kg of highly inflammable gas was "uncontrollably released" during an operation to remove water from a surge pipeline at the terminal in 2012.
There was either a lack of procedure or failure to adhere to it as a single operative intermittently monitored the drain process, where water was dumped into a manhole through a non anti-static flexible pipe attached to a valve 20m away.
Once oil began to flow from the pipe, indicating the water was out, it should have been manually shut off at the valve. But the operative was only checking the outflow every 40 minutes as he busied himself with other tasks.
The worker found that the pipe, only held in place by the manhole cover, had come out on one of his checks and that light brown fluid was spilling over the ground. None of the crude oil escaped from the terminal and mopping up was aided by the frozen ground on 13 December.
The surge pipe, that was connected to the Ninian pipeline, had not been isolated from the main pipe and the entire flow of crude oil from the Ninian pipeline was being held back by the single valve.
Once the unstabilised oil came through the pipe, the single employee was exposed to the hazards of intoxicating, highly inflammable gas in a remote and badly lit area of the terminal.
Deputy procurator fiscal Gavin Callaghan said that there had been a one per cent chance of the gas igniting either through static electricity or the hose impacting a hard surface. He also said that the terminal's own fire fighters would have been capable of containing the fire.
He also said that the water draining operation had been treated as routine when it was in fact exceptional, and work procedures had not been adjusted accordingly.
Defence agent Peter Gray QC said that BP had an excellent record and the breach of health and safety had been a singular incident. There had been nothing of the sort in recent times.
He said that BP took the matter so seriously it had conducted a major overhaul of all its operating procedures since the incident. It also took great pride in an exemplary safety record at Sullom Voe despite facing a multitude of daily risks.
At Gray's suggestion, sheriff Philip Mann referred to English sentencing guidelines to arrive at a suitable penalty for the "very large" company.
He balanced mitigating and aggravating circumstances as well as the need to meet out a fine that would have financial consequences for a major company. He also took account of BP's early plea in reducing a fine that would have been £600,000 to £400,000.
Health and Safety Executive principal inspector Greg Haywood said later that it was a "major accident"  as it had been a "substantial loss of containment of unstabilised crude."
The size of the release meant that it had been reported not only to the HSE but to the European Commission.
A spokesperson for BP, which operated the terminal until handing over to EnQuest in 2017, said:
"BP's operations are underpinned by a relentless focus on safety and risk management. Regrettably, on this occasion in 2012, we fell short of these high standards.
"While there was no injury to people or impact on the environment, this incident should not have happened.
"We carried out a thorough investigation and applied lessons learned up until December 2017 when operatorship of Sullom Voe Terminal transferred to EnQuest.
"During that transition, we ensured all safety practices BP had built up at SVT over the years were transferred effectively to EnQuest. BP remains ever-committed to safe operations across our operations."
Space2face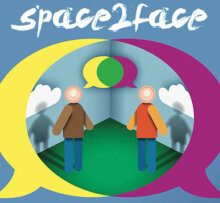 Space2face Shetland is an independent and confidential service which uses Restorative Justice and the arts to bring those harmed by crime or conflict and those responsible for the harm into communication. We enable everyone affected by a particular incident to play a part in repairing the harm and finding a positive way forward.
If you would like to reach out to us, please contact us via e-mail info@space2face.org or mobile 07564 832467.
If you would like to know more, visit our website www.space2face.org, or our Facebook page #space2faceshetland.
---
The project is also currently fundraising to secure office space in Shetland's brand-new creativity and wellness centre, The Mission. If you're interesting in getting involved, or making a donation, head over to www.space2face.org/how-you-can-help