Court / Round up from Wednesday's Lerwick Sheriff Court: Unpaid work for defying bail terms, fine for Legion attacker, stealing a lost wallet
A LERWICK man who refused to come to his door for police on consecutive days whilst he was on bail has been handed 100 hours of unpaid work.
Scott Henry admitted three charges relating to breaking his bail conditions: that he should attend his house door when police called, having been required to stay at home between 10pm and 7am.
Lerwick Sheriff Court heard on Wednesday that Henry, 32, of the town's Hill Grind, failed to answer his door to police at 10.10pm on 8 January, having been granted bail on 30 November.
Instead, his partner came to the door and told them Henry was in the shower. The police checked the rear of the house at Hill Grind but could not see anyone else there.
When they returned to the front door they were handed a phone with someone on the other end purporting to be Henry speaking from the shower. A caller ID check instead showed the phone belonged to someone "well known" to the police.
Police returned the next morning and when Henry answered the door he was told he was being taken into custody. Henry managed to close and lock the door and the officers decided to try and reason with him rather than force entry.
The police left but returned 40 minutes later and when they knocked on the door, there was once more no reply.
Procurator Fiscal Duncan Mackenzie said that Henry had been "clearly in unlawful defiance" of the bail terms set out for him.
Sheriff Ian Cruickshank imposed a total of 140 hours unpaid work on Henry, but said that 40 hours were to run concurrently, giving Henry an effective total of 100 hours to complete in three months.
---
A MAN pushed another man so hard down the steps of the British Legion in Lerwick that he landed a few yards in front of attending police officers.
Lerwick Sheriff Court heard the incident, just after midnight on 9 December 2018, saw a "considerable degree of force" used by Callen Laurenson, of Hamnavoe, Burra, in the attack on another man.
Defence agent Tommy Allan said that Laurenson, 21, had "taken umbrage" at something he had heard inside the Legion, during a music gig, and matters had continued outside.
He had been fully co-operative with police who had found a small quantity of cannabis on him.
Sheriff Ian Cruickshank said that the attack "could have had very nasty consequences" for the complainer and fined Laurenson £500 and another £100 for possessing cannabis.
---
A LERWICK man who used a lost debit card to buy goods and withdraw £860 from someone else's account has been given 150 hours of unpaid work as a "direct alternative" to a prison sentence.
Mark Smith, 42, of St Sunniva Street, appeared for sentencing at Lerwick Sheriff court on Wednesday after admitting three charges of stealing the lost wallet and using a card to fraudulently obtain goods and money.
The court heard that Smith had found a wallet on Commercial Road on 9 October last year and instead of trying to find its owner, stole it.
The following day he bought goods worth £137.20 from Ellesmere Stores on Lerwick Esplanade using a debit card that had been in the wallet. He also stole cash totalling £860 from various machines at the Bank of Scotland, Tesco and other locations using the card and PIN between 9 and 13 October.
Tommy Allan, defending, said that Smith struggled with his heroin addiction and was sorry and shamed for committing the offence.
He was participating in a methadone scheme in an attempt to get off heroin and was also taking anti-depressants.
Sheriff Ian Cruickshank sentenced Smith to a year's supervision and ordered him to complete 150 hours of unpaid work within six months.
Space2face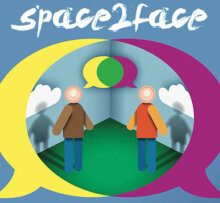 Space2face Shetland is an independent and confidential service which uses Restorative Justice and the arts to bring those harmed by crime or conflict and those responsible for the harm into communication. We enable everyone affected by a particular incident to play a part in repairing the harm and finding a positive way forward.
If you would like to reach out to us, please contact us via e-mail info@space2face.org or mobile 07564 832467.
If you would like to know more, visit our website www.space2face.org, or our Facebook page #space2faceshetland.
---
The project is also currently fundraising to secure office space in Shetland's brand-new creativity and wellness centre, The Mission. If you're interesting in getting involved, or making a donation, head over to www.space2face.org/how-you-can-help