Court / Sheriff sounds 'playing with fire' warning after Stuart Hill group sends invoices to court
TWO invoices requesting more than £100,000 between them were sent to Lerwick Sheriff Court from Stuart Hill's Sovereign Nation of Shetland relating to a man's previous court appearance.
The invoices – sent to the sheriff and sheriff clerk – each included a demand for £30,000 for three times the accused Calum Jamieson was handcuffed.
mobile/post-mobile/0
There was also a demand for £21,000 for 21 hours he spent in custody and £5,000 for being arrested by a "police officer".
The invoices, each totalling £56,500, said that any money recovered would be donated to Sovereign Nation of Shetland.
The accompanying letter – sent by Hill as a representative of the accused – questioned the court's jurisdiction and said fees were liable due to "forced involvement" after Jamieson was previously taken into custody and appeared in court.
Jamieson, of Lerwick's Mill Lane, is accused of behaving in a threatening or abusive manner at Cee and Jays in Lerwick in August last year, as well as within a police vehicle en route to the police station.
mobile/post-mobile/1
The 37-year-old's case called again at Lerwick Sheriff Court on Wednesday, with Shetland sovereignty campaigner Stuart Hill in attendance to speak on his behalf.
But Hill never made it beyond the public seating area as Sheriff Ian Cruickshank – who warned him about possible contempt of court – wanted to clarify the context behind three letters recently sent to the court in relation to Jamieson's case.
The letters – two from Jamieson and another via Sovereign Nation of Shetland – challenged the jurisdiction of the court and in turn the sheriff.
mobile/post-mobile/2
Hill believes that Shetland is not part of the UK or Scotland, so therefore the court is void.
But when asked in court on Wednesday if it was his intention to challenge the court, Jamieson said: "I don't think so".
One of Jamieson's letters had claimed his initial arrest was unlawful and that one earlier hearing was a "sham".
When asked if he would like Stuart Hill to represent him, Jamieson said from the dock: "I would need to think about that".
An impassioned Sheriff Cruickshank also questioned the background of the letter from Sovereign Nation of Shetland, which was sent on 29 March and claimed Jamieson was a member of the group.
"Was the letter sent with your knowledge and with your authority and on your instruction?" he asked.
"This letter is not from me," Jamieson replied.
Sheriff Cruickshank warned Jamieson that he was "playing with fire" and added that he was considering contempt of court.
When Jamieson said he would be representing himself, Hill was then ordered to leave the courtroom.
The sheriff advised Jamieson that he could seek legal advice – "and I stress legal advice".
Jamieson's case was continued to 14 April, as was consideration of a possible contempt of court. A trial date is set for 22 July.
"Bail is continued with hesitation," the sheriff said.
Space2face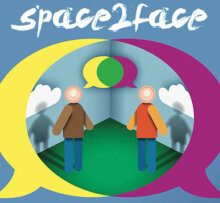 Space2face Shetland is an independent and confidential service which uses Restorative Justice and the arts to bring those harmed by crime or conflict and those responsible for the harm into communication. We enable everyone affected by a particular incident to play a part in repairing the harm and finding a positive way forward.
If you would like to reach out to us, please contact us via e-mail info@space2face.org or mobile 07564 832467.
If you would like to know more, visit our website www.space2face.org, or our Facebook page #space2faceshetland.
---
The project is also currently fundraising to secure office space in Shetland's brand-new creativity and wellness centre, The Mission. If you're interesting in getting involved, or making a donation, head over to www.space2face.org/how-you-can-help