Court / Unpaid work for man who assaulted his partner and her brother
A MAN has escaped imprisonment after attacking his partner and struggling with her brother, resulting in the victim's"severe injury" and "permanent impairment".
Thomas Currie, of Stennastwatt, Walls, earlier admitted two charges including assaulting the man, who was injured when his foot was caught in a drain outside the Mid Brae Inn.
The pair got in a struggle during a night out on 12 May last year after Currie attacked the man's sister and pushed her against a wall. Later on he struck her head with her handbag, which he had wrenched from her – an offence aggravated by her being his partner.
After taking a break to consider the circumstances, sheriff Ian Cruickshank sentenced the 27-year-old to 300 hours unpaid work with nine months to complete it.
He also ordered him to pay £2,500 in compensation to his victim and gave him two years of supervision.
He warned Currie that any failure to complete his community payback order would result in his imprisonment.
The Sheriff said that it had been an "anxious" and finely balanced case on which to pass sentence, and said that the amount of violence used by Currie had been minimal and his remorse was genuine.
Space2face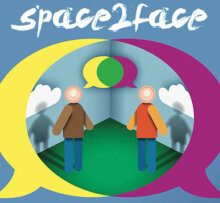 Space2face Shetland is an independent and confidential service which uses Restorative Justice and the arts to bring those harmed by crime or conflict and those responsible for the harm into communication. We enable everyone affected by a particular incident to play a part in repairing the harm and finding a positive way forward.
If you would like to reach out to us, please contact us via e-mail info@space2face.org or mobile 07564 832467.
If you would like to know more, visit our website www.space2face.org, or our Facebook page #space2faceshetland.
---
The project is also currently fundraising to secure office space in Shetland's brand-new creativity and wellness centre, The Mission. If you're interesting in getting involved, or making a donation, head over to www.space2face.org/how-you-can-help