Court / Voe crash driver imprisoned
A DRINK driver who ploughed into a taxi near Voe while driving on the wrong side of the road, seriously injuring three people, has been sent to prison for 18 months.
Lerwick Sheriff Court heard on Wednesday that Allan Prosser had been two and a half times over the legal drink driving limit four and a half hours after the accident on 5 August 2017.
When police arrived on the scene at the Point of Mulla in the early hours of the morning the taxi driver was still on the phone summoning an ambulance and remained conscious throughout the ordeal that left him with life-changing injuries.
A female passenger was also injured and her 12-year-old son received severe internal injuries that led to him spending ten days in a children's unit in Glasgow.
Prosser, 22, of Nairn, earlier admitted causing serious injury to the victims by dangerous driving and colliding with the taxi on the wrong side of the road while impaired by alcohol. His reading was 120 milligrammes of alcohol in 100 millilitres of blood.
Prosser was himself very seriously injured, having sustained multiple broken bones in the legs and pelvis and punctured lungs. Defence agent Marc Dickson said that he had been in hospital for three months and was likely to be on pain killers the rest of his life owing to nerve damage.
Procurator fiscal Duncan Mackenzie said that the 22-year-old painter at Sullom Voe had been drinking with colleagues at their rented accommodation before they went to a pub in Brae.
Prosser was on CCTV in an inebriated state by closing time and was driven back to his digs in Voe by bar staff. But at 2am Prosser arrived back in the pub car park in a car after leaving a mobile phone in the pub. When staff approached him to take his keys, he drove off in the direction of Voe again and they called the police.
The police were heading north when they came on the crash site just north of Voe.
According to Mackenzie the collision happened with so little warning the taxi driver only managed to shout a warning to his passengers but was unable to take evasive action.
The taxi driver and Prosser both had to be cut from their cars by the fire service before they could be taken away by ambulance. A blood sample was taken from Prosser at the Gilbert Bain Hospital in Lerwick.
Defence agent Dickson said that Prosser had been dressed only in his underpants and t-shirt and was not even wearing shoes at the time of his accident and had no recollection that he had left his phone at the pub.
He said that the last thing Prosser recalled was going to bed in his digs and had left all his possessions including his shoes back in the house before he took the car back to Brae.
The lawyer said that Prosser had a history of sleep walking and his sleep was even more broken after he had been drinking. He said that there was simply no explanation for his behaviour and Prosser had not even known his phone was in the pub in Brae. 
Prosser, he said, was deeply and genuinely sorry for what had happened and the injuries he had caused.
He would do anything to turn back the clock to change what had happened, Dickson said, and he had become very upset at times when discussing the events of the case.
Sheriff Ian Cruickshank said it was a "difficult matter" before adjourning to consider an appropriate sentence. He said he had no doubt over Prosser's genuine regret, but he had caused "very significant injuries" and there was the substantial aggravating factor of drink.
The sheriff said that having balanced all the factors, he regretted having to sentence Prosser to 18 months in prison, reduced from 24 months to reflect his guilty plea.
He also disqualified Prosser from driving for four years and nine months, and he will have to sit an extended test of competence before regaining his licence.
Space2face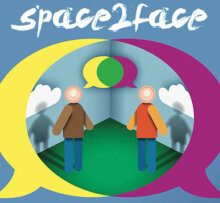 Space2face Shetland is an independent and confidential service which uses Restorative Justice and the arts to bring those harmed by crime or conflict and those responsible for the harm into communication. We enable everyone affected by a particular incident to play a part in repairing the harm and finding a positive way forward.
If you would like to reach out to us, please contact us via e-mail info@space2face.org or mobile 07564 832467.
If you would like to know more, visit our website www.space2face.org, or our Facebook page #space2faceshetland.
---
The project is also currently fundraising to secure office space in Shetland's brand-new creativity and wellness centre, The Mission. If you're interesting in getting involved, or making a donation, head over to www.space2face.org/how-you-can-help