Court / Vicious attack that left two brothers severely injured likely to result in jail sentence
TWO MEN from the central belt who committed a violent assault on two Irish nationals working in Shetland have been told they will likely be sent to prison when they appear at court for sentencing next month.
Steven Hazel pleaded guilty to a charge of assault to severe injury and permanent disfigurement, while Craig Donaldson admitted a charge of assault to severe injury when they appeared at Lerwick Sheriff Court on Tuesday morning.
The court heard how the two men forced entry into a chalet in Scalloway on the night of 26 March last year and assaulted the two brothers staying there.
Procurator fiscal Duncan Mackenzie described the assault on the two victims as a premeditated attack for a "perceived wrongdoing of a very minor nature".
The fiscal said Hazel and Donaldson, who were also staying at the chalet complex while working in Shetland, had confronted the two brothers over a broken wing mirror a few nights before.
He went on to describe how a couple of nights later the two attackers barged into the chalet, with 40-year-old Hazel repeatedly punching, kicking and butting his victim on the head and body, repeatedly stamping on his body, gouging his eyes and placing him in a headlock.
Meanwhile Donaldson, also 40 years of age, assaulted the other brother in a similar fashion.
However, he managed to escape and was able to alert the owner of the chalet complex who was living on the grounds.
Police arrived and both Hazel, of Hilton Terrace, Fallin, and Donaldson, of Holbeath Avenue, Glasgow, were arrested and taken to Lerwick Police Station.
Both victims were taken to hospital where one of the men required a total of 20 stitches to cuts above both eyebrows and a number of deep wounds at the back of his head.
Become a supporter of Shetland News
He also suffered haemorrhaging, soft tissue damage all over his body and bite wounds to his left arm.
The other man sustained four fractured ribs and bruising to the right eye.
During the assault both Hazel and Donaldson uttered derogatory comments toward their victims' nationality, which are proof of a "deep seated racial bias", the fiscal added.
Defending Hazel, solicitor Tommy Allan said his client was well aware that he might be sent to prison for the offence. He asked for his liberty while reports are prepared ahead of sentencing next month.
Speaking on behalf of Donaldson, Falkirk based defence agent Michael Bell pointed out the offence his client had pleaded guilty to was less serious and added that after a "pattern of persisting early offending" his client had not been at court for the last six years.
Sheriff Ian Cruickshank agreed to continue bail while reports are prepared, but warned both men that custody was a "realistic possibility" when they appear for sentencing on 20 December.
Space2face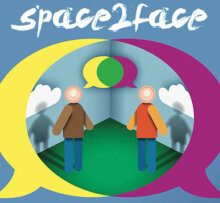 Space2face Shetland is an independent and confidential service which uses Restorative Justice and the arts to bring those harmed by crime or conflict and those responsible for the harm into communication. We enable everyone affected by a particular incident to play a part in repairing the harm and finding a positive way forward.
If you would like to reach out to us, please contact us via e-mail info@space2face.org or mobile 07564 832467.
If you would like to know more, visit our website www.space2face.org, or our Facebook page #space2faceshetland.
---
The project is also currently fundraising to secure office space in Shetland's brand-new creativity and wellness centre, The Mission. If you're interesting in getting involved, or making a donation, head over to www.space2face.org/how-you-can-help