Court / Retired policeman found guilty of stalking former partner
A RETIRED police officer has been found guilty of causing fear or alarm by stalking his former partner over a seven month period following a two-day trial at Lerwick Sheriff Court.
Norman George Hobbin, 72, of Bridge of Walls, was convicted of an amended charge under section 39 of the 2010 Criminal Justice Act Sentence was deferred for him to be of good behaviour for nine months, and he was fined £500 for breaching the terms of his bail.
mobile/post-mobile/0
The trial concluded on Tuesday afternoon with Sheriff Ian Cruickshank finding Hobbin guilty of stalking the woman between 10 February and 16 September 2020 at their former joint home address in Walls, two homes in Lerwick and elsewhere in Shetland.
He approached her in an aggressive manner, entered a car she was sitting in, and approached her to suggest she give their son money to go and buy himself a treat, leaving them free to engage in sexual activities together.
mobile/post-mobile/1
Hobbin also intimated that he was aware of her movements and stared at her, and his course of conduct was aggravated by involving the abuse of his former partner.
Having been granted bail on 17 February this year, Hobbin breached a special condition that he was not to contact his wife except via a third party in relation to child welfare matters, by writing to a woman requesting that she ask his former partner to retract her statement relating to the criminal proceedings.
During the trial, procurator fiscal Duncan Mackenzie told the court that Hobbin's conduct during various incidents constituted a pattern of behaviour that had caused psychological harm to the victim.
Defence agent Andrew Seggie had unsuccessfully sought to bring the trial to a halt on a "no case to answer" basis on Tuesday, arguing that while aspects of his behaviour may have been "odd" Hobbin's conduct was not unusual in the difficult circumstances of a break-up and did not constitute criminality.
Sheriff Cruickshank said he did not "wish to see a repeat of this behaviour" and deferred sentence, adding he hoped the bulk of civil matters relating to the couple's separation could be dealt with in that time.
Space2face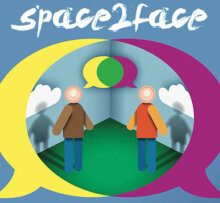 Space2face Shetland is an independent and confidential service which uses Restorative Justice and the arts to bring those harmed by crime or conflict and those responsible for the harm into communication. We enable everyone affected by a particular incident to play a part in repairing the harm and finding a positive way forward.
If you would like to reach out to us, please contact us via e-mail info@space2face.org or mobile 07564 832467.
If you would like to know more, visit our website www.space2face.org, or our Facebook page #space2faceshetland.
---
The project is also currently fundraising to secure office space in Shetland's brand-new creativity and wellness centre, The Mission. If you're interesting in getting involved, or making a donation, head over to www.space2face.org/how-you-can-help