Court / Teacher jailed after being found guilty of sexual offences against pupils
A SHETLAND schoolteacher has been jailed for 15 months after engaging in sexual activity with two pupils.
Kieran Malcolmson was convicted of two charges following a trial at Aberdeen Sheriff Court last month.
A remote jury found the 36-year-old guilty by majority of being in a position of trust as a schoolteacher and engaging in sexual activity other than sexual intercourse with or directed towards a pupil in 2009.
He kissed and engaged in sexual activity with the girl while he was employed as a teacher at a school in Shetland.
Malcolmson was also found guilty by majority of a similar offence of engaging in sexual activity with or directed towards another pupil at a school in 2018.
He kissed the girl on the mouth and repeatedly asked her to accompany him to a "dark and secluded area".
Following the outcome of the trial, sentence was deferred on Malcolmson, of Sandwick, Shetland, for reports.
He appeared back in the dock at Aberdeen Sheriff Court on Friday to learn his fate.
Defence agent John Keenan invited the sheriff to impose a community order rather than jail.
He said the convictions had had "real consequences" for him, adding: "Since the events in the most recent charge came to light, he was immediately suspended from work and was suspended for about two-and-a-half years before matters concluded following the trial.
"At the beginning of this month he was dismissed from his employment and will not be able to resume work in that field."
Regarding the offences themselves, Keenan went on: "These are not situations where there is an element of grooming in the build-up to the offences.
"On the contrary, these appear to have been matters that occurred really fairly randomly on an impulsive basis."
Keenan said Malcolmson, who continues to deny the offences, had been an active member of the community, coaching a football team and also sitting on a community council.
He added: "Aside from these offences, otherwise he's led a useful and productive life which has really, in some ways, been ruined by his actions."
Sheriff Philip Mann told the court: "This case involves a serious breach of trust.
"Despite your good character and the high price you have paid, I have come to the conclusion only a custodial sentence is appropriate."
Malcolmson was jailed for 15 months and his name was added to the sex offenders' register for ten years.
Meanwhile, Shetlands Islands Council has praised the courage of pupils who have come forward to raise concerns over the conduct of their teacher.
Responding to Friday's sentencing, SIC children's services director Helen Budge said young people should be reassured that any concerns raised is being extremely seriously.
"Children and young people have the right to be kept safe from abuse and neglect.  It is everyone's job to make sure that children get help when they need it," she said.
"If anyone has a concern, it is important that they share it with someone who can help.  You may have a vital bit of information which helps to form a picture of what is needed for a child."
She said anyone who has concern that a child or a young person is at risk should report those concerns to social work services on 01595 744420 during office hours, and out of hours on 01595 695611 or, in urgent situations, to the police.
More information can also be found on the Safer Shetland website.
Court copy courtesy of the Press & Journal
Space2face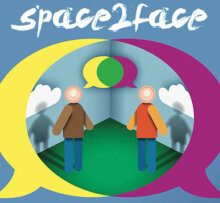 Space2face Shetland is an independent and confidential service which uses Restorative Justice and the arts to bring those harmed by crime or conflict and those responsible for the harm into communication. We enable everyone affected by a particular incident to play a part in repairing the harm and finding a positive way forward.
If you would like to reach out to us, please contact us via e-mail info@space2face.org or mobile 07564 832467.
If you would like to know more, visit our website www.space2face.org, or our Facebook page #space2faceshetland.
---
The project is also currently fundraising to secure office space in Shetland's brand-new creativity and wellness centre, The Mission. If you're interesting in getting involved, or making a donation, head over to www.space2face.org/how-you-can-help