Court / Couper jailed for a year for "crime wave"
A MAN was jailed for a year after admitting a string of offences at Lerwick Sheriff Court on Wednesday.
Trevor Couper, 26, of Meadowfield Road, Scalloway, appeared from custody to admit a series of charges that had Sheriff Ian Cruickshank dub him a "one man crime wave".
Couper admitted threatening and abusive behaviour by entering a house in Unicorn View without being invited and attempting to keep the householder out by barring the door, before committing a similar offence at another address shortly after.
The court heard that around 11.30pm on 28 May Couper had been pursued by a group of people who thought he had smashed a window. Looking to escape, he had knocked on the window of the house with a rock and the householder went outside to see what was going on as the pursuers arrived outside the garden fence.
Couper slipped inside the house and held the door against the householder and attempted to brace the handle with something.
Matters were made worse as the man's daughter was in the house and was terrified by events – "screaming", according to procurator fiscal Duncan Mackenzie. She grabbed at Couper, who pushed her. The householder, who had no idea who Couper was, managed to get back in and bundled him out of the house, when he fled.
Ten minutes later Couper entered a nearby house at Hill Grind. A 16-year-old girl who lived there heard the door open and was "surprised to be confronted by Couper".
This time the householder escorted him outside without incident. The police were called and arrested Couper trying to leave the scene in a taxi. Couper was taken to the station where his "behaviour did not improve" and he shouted homophobic comments.
On 26 and 27 September Couper made two attempts to break into the cake fridge in St Olaf Street. His first bungled heist happened about 11.30pm when an intoxicated Couper made a "half-hearted" attempt to force entry to the fridge, which was inside a wooden shed.
He returned at 4am and attempted to force a metal hasp on the door but was disturbed by a noise.
According to Mackenzie, the value of the damage was about £100. "More important was the damage to the confidence of the proprietor that such a business that relies on trust can be carried out," said the fiscal.
Couper also pleaded guilty to vandalising three cars in the town in a series of "random" attacks. He also admitted stealing bottles of spirits from the Co-op on two occasions.
Defence agent Tommy Allan said that Couper had entered the houses in genuine fear for his safety and accepted he had caused fear and alarm to the occupants of the houses.
Sentencing Couper, Sheriff Cruickshank said: "It looks as if between May and November this year you have ended up as a one-man crime wave. If I was you I would give up this recidivist lifestyle because you are not very good at it."
The sheriff ordered Couper to be imprisoned for a total of 12 months, back-dated to 22 November when he was taken into custody.
Space2face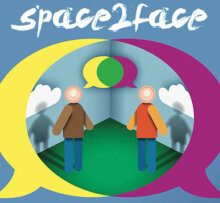 Space2face Shetland is an independent and confidential service which uses Restorative Justice and the arts to bring those harmed by crime or conflict and those responsible for the harm into communication. We enable everyone affected by a particular incident to play a part in repairing the harm and finding a positive way forward.
If you would like to reach out to us, please contact us via e-mail info@space2face.org or mobile 07564 832467.
If you would like to know more, visit our website www.space2face.org, or our Facebook page #space2faceshetland.
---
The project is also currently fundraising to secure office space in Shetland's brand-new creativity and wellness centre, The Mission. If you're interesting in getting involved, or making a donation, head over to www.space2face.org/how-you-can-help