Court / Jail for men who threatened off-duty police officer
TWO men have been imprisoned after admitting threatening and abusive behaviour towards an off-duty police officer in Lerwick on 20 November.
Kasim Javed, 31, pleaded guilty to the offence along with 23-year-old Kyle Swannie at Lerwick Sheriff Court on Wednesday.
The Court heard that the pair had followed the sergeant, who was out walking his dog on Commercial Street, after realising he was with the police.
Javed, of Gaitside Drive, Aberdeen, had threatened to "knock him out" before the officer radioed colleagues. Swannie, of Bakland, Lerwick, meanwhile was making threats about what he would do to the officer and his "elderly" dog.
Two women, aged 82 and 85, were standing close by and hurried off as the threats continued.
The pair were arrested nearby after trying to flee the scene in a taxi. Swannie had to be hauled out of the vehicle and was put on the ground before he could be restrained by police. 
His abuse continued as he was taken to the police station where he uttered threats and "random" homophobic insults.
Not done, Swannie told officers he had drugs concealed internally and was taken to hospital for a search that revealed nothing. But his shouting and swearing continued in hearing of the A&E department and in earshot of young children in the waiting room and vulnerable people in the vicinity.
Swannie, said procurator fiscal Duncan Mackenzie, also said that he knew where police officers lived and what school their children went to. He also made racist remarks to a policewoman.
The fiscal said it had been a deliberate attempt to approach and intimidate an off duty police officer.
Referring to Javed's lenghty criminal record, Sheriff Ian Cruickshank said that his history made the threats uttered to the off-duty policeman very credible and said that the pair had engaged in a "premeditated" course of action.
Javed had only been released early from a six-month prison sentence 12 days before committing his latest offence.
Sheriff Ian Cruickshank ordered him to complete the 125 unexpired days of his sentence before beginning a 238 day term for the 20 November offence, making it a total of 363 days.
Swannie, who also appeared from custody, was to complete what remained of an existing four-month sentence before beginning a 238 day sentence for his latest offences.
Space2face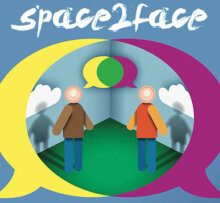 Space2face Shetland is an independent and confidential service which uses Restorative Justice and the arts to bring those harmed by crime or conflict and those responsible for the harm into communication. We enable everyone affected by a particular incident to play a part in repairing the harm and finding a positive way forward.
If you would like to reach out to us, please contact us via e-mail info@space2face.org or mobile 07564 832467.
If you would like to know more, visit our website www.space2face.org, or our Facebook page #space2faceshetland.
---
The project is also currently fundraising to secure office space in Shetland's brand-new creativity and wellness centre, The Mission. If you're interesting in getting involved, or making a donation, head over to www.space2face.org/how-you-can-help