Court / Drink driver caused multiple vehicle accident
A YOUNG woman has been banned from driving for two and a half years after admitting dangerous driving whilst under the influence of alcohol that led to a multiple vehicle accident.
India Carla Lockyer will also have to undertake 160 hours of unpaid work and be supervised for two years as well as undergo an extended driving test following the incident on the 6 May 2018.
mobile/post-mobile/0
The court heard that the 25-year-old from Aith had been drunk while driving on the A970 just north of Girlsta at 11pm on a Sunday. She had been tailgaiting the car in front of her with full beam lights and then decided to overtake the car on a bend.
Lockyer met an oncoming vehicle while she was in the wrong lane, the car she was driving clipped the verge and span out of control off the road, hitting the roadside barrier then the oncoming car.
Both the other drivers stopped to see if she was injured. At first, Lockyer appeared unconscious and then began to laugh and told them she was fine, procurator fiscal Duncan MacKenzie told Lerwick Sheriff Court.
mobile/post-mobile/1
Another vehicle then took the corner and collided with Lockyer's car show lights had been knocked out.
When police arrived she was "clearly" very drunk and slurring her speech. She was given the roadside breath test and had 123 microgrammes of alcohol in 100ml of blood. Another test found she was not at all concussed.
Tommy Allan, defending, said that Lockyer may have laughed at the time, but took the incident very seriously now and had turned over a new leaf in her life which had been "charging out of control".
Sheriff Ian Cruickshank said it was a "serious matter".
As Lockyer had all but completed a community payback order he deemed it appropriate she should serve another, with supervision a "very important" element of it.
Space2face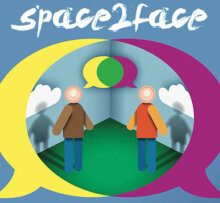 Space2face Shetland is an independent and confidential service which uses Restorative Justice and the arts to bring those harmed by crime or conflict and those responsible for the harm into communication. We enable everyone affected by a particular incident to play a part in repairing the harm and finding a positive way forward.
If you would like to reach out to us, please contact us via e-mail info@space2face.org or mobile 07564 832467.
If you would like to know more, visit our website www.space2face.org, or our Facebook page #space2faceshetland.
---
The project is also currently fundraising to secure office space in Shetland's brand-new creativity and wellness centre, The Mission. If you're interesting in getting involved, or making a donation, head over to www.space2face.org/how-you-can-help