Election / Wills promises more local control to entice the fishing vote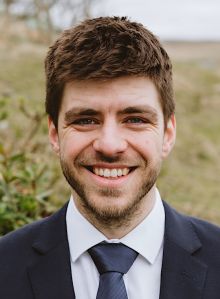 LOCAL control over the management of fisheries within a 12-mile limit around Shetland is already possible under the Islands Act – but the SIC has yet to ask for any new powers to be devolved, says SNP election candidate Tom Wills.
While setting out his commitment for the local seafood industries, Wills – the governing party's Shetland candidate for May's elections to the Scottish Parliament – said more local control was already possible.
mobile/post-mobile/0
He also said, if elected, he would press the Scottish Government to deliver on existing commitments.
Wills said the regulating order that allows crab and lobster fisheries to be managed locally by the Shetland Shellfish Management Organisation (SSMO) could be a blueprint for the devolution of other fisheries.
The Shetland seafood industry is worth at least £300 million annually to the local economy and employs hundreds of people.
"Shetland already leads the way in sustainable local fisheries management, through the SSMO. We should explore a similar model for other fisheries," he said.
mobile/post-mobile/1
"In recent years the local mackerel jigging fleet has greatly expanded, creating jobs and enabling new entrants to get a start in fishing. That's the kind of practical local management we need more of.
"I also want to ensure that we have more control over seabed revenues from aquaculture projects in the future.
"The Islands Act provides a way to devolve powers to Shetland, but Shetland Islands Council (SIC) has yet to ask for any.  We should start by getting more control over waters within the 12-mile limit.
mobile/post-mobile/2
"Working with the Shetland Fishermen's Association and the NAFC Marine Centre, I will press the Scottish Government to deliver on its existing commitment to local fisheries management. Holyrood can already regulate within 12 miles without recourse to Westminster and if Scotland were to become independent, the definition of local could be expanded beyond 12 miles."
Wills added: "I look forward to working with the industry trade associations to give our industry an effective voice and to tackle problems like disproportionate inspections by fisheries protection vessels, discarded gill nets and the influence of huge corporations on our family-owned fishing sector.
"With increasing local control and a voice inside the party of government, we can seize opportunities for sustainable development and build on Shetland's reputation as a global example of seafood best practice."
---
The Scottish Parliament elections take place on 6 May. There are six candidates contesting the Shetland seat. They are in alphabetical order: Martin Kerr (Labour), Briand Nugent (restore Scotland); Peter Tait (Independent), Nick Tulloch (Conservatives), Tom Wills (SNP) and Beatrice Wishart (Liberal Democrats).
To find out more about all of the candidates standing in the election, including those on the regional Highlands and Islands list, visit our Scottish Parliament election 2021 page below.
Become a supporter of Shetland News
Shetland News is asking its many readers to consider start paying for their dose of the latest local news delivered straight to their PC, tablet or mobile phone.
Journalism comes at a price and because that price is not being paid in today's rapidly changing media world, most publishers - national and local - struggle financially despite very healthy audience figures.
Most online publishers have started charging for access to their websites, others have chosen a different route. Shetland News currently has  over 540 supporters  who are all making small voluntary financial contributions. All funds go towards covering our cost and improving the service further.
Your contribution will ensure Shetland News can: -
Bring you the headlines as they happen;
Stay editorially independent;
Give a voice to the community;
Grow site traffic further;
Research and publish more in-depth news, including more Shetland Lives features.
If you appreciate what we do and feel strongly about impartial local journalism, then please become a supporter of Shetland News by either making a single payment or monthly subscription.
Support us from as little as £3 per month – it only takes a minute to sign up. Thank you.
Support Shetland News
Already a supporter? Sign in to hide this message.