Court / Sheriff puts his faith in Patterson after hearing of 'sea-change' in her life
A SERIAL offender who has found herself before the court on numerous occasions over recent years due to her addiction to drugs and alcohol has been given a chance to prove herself after her team of solicitors convinced Sheriff Ian Cruickshank of a "sea-change" in Sarah Patterson's life.
The 36-year-old, who is currently serving a custodial sentence at Grampian prison, appeared at Lerwick Sheriff Court on Thursday on a number of charges including assault and breaches of the peace.
Sheriff Cruickshank said that his initial thought had been that there was no alternative but to impose yet another custodial sentence.
But deferring sentence for six months for Patterson to be of good behaviour, the sheriff said he had been convinced that the time was right for an alternative approach. "I am putting my faith in you," he told her.
Ahead of sentencing the court had heard how Patterson had successfully broken the spiral of addiction and offending and will now be accepted into the care of the charity Searchlight, in Aberdeen, once she will be released from jail on 3 May.
Defence solicitor Tommy Allan said she is expected to stay with the charity for at least a year, depending on progress.
Searchlight provide safe accommodation and offer specialist care for those who want to rid themselves from addiction, abuse or exploitation.
While asking for leniency in sentencing, Allan said his client was now clean and sober, and the move to Searchlight appeared to be "a meaningful step forward".
He said the court had two options, either imposing another custodial sentence, or taking the "long view".
Patterson pleaded guilty to assaulting another woman at an address in Lerwick on 25 November 2020 while on bail.
She also admitted behaving in a threatening or abusive manner towards her ex-partner over a period of more than a year between 1 May 2020 and 1 June 2021 at an address in Mossbank.
She further admitted behaving in a threatening manner on 13 August last year at the same address in Mossbank while on bail.
All offences took place while heavily intoxicated.
Congratulating her on her turnaround and on the quality of submission solicitors Tommy Allan and Liam McAllister made on her behalf, the sheriff said: "I am not a pushover, but they have convinced me not to impose a custodial sentence."
Patterson will have to re-appear on 12 October, and she will remain on bail with standard conditions imposed.
The court also issued a non-harassment order for one year which prevents Patterson from having any contact in any form with her ex-partner and his new partner.
Space2face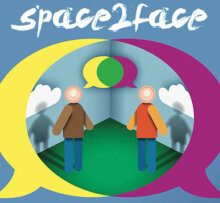 Space2face Shetland is an independent and confidential service which uses Restorative Justice and the arts to bring those harmed by crime or conflict and those responsible for the harm into communication. We enable everyone affected by a particular incident to play a part in repairing the harm and finding a positive way forward.
If you would like to reach out to us, please contact us via e-mail info@space2face.org or mobile 07564 832467.
If you would like to know more, visit our website www.space2face.org, or our Facebook page #space2faceshetland.
---
The project is also currently fundraising to secure office space in Shetland's brand-new creativity and wellness centre, The Mission. If you're interesting in getting involved, or making a donation, head over to www.space2face.org/how-you-can-help