Climate / Plans for floating wind farms move ahead as steel specialist joins project
GMB union warns that more high skilled jobs in key industries could be lost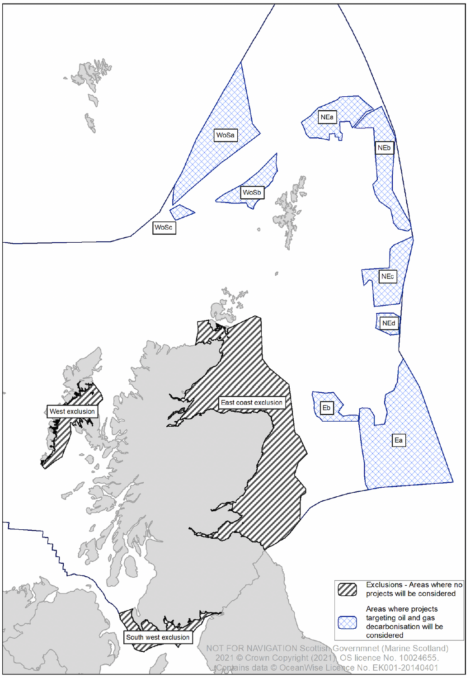 THE TEAM behind plans to build large floating offshore wind farms to the west of Shetland and in the central North Sea has welcomed the global energy industry's commitment towards the project which is also expected to bring new manufacturing capacity to Scotland.
Dan Jackson of Cerulean Winds was speaking after United Arab Emirates (UAE) based company Lamprell entered into a memorandum of understanding (MoU) with American service provider NOV to support the delivery of Cerulean's plans to construct three one gigawatt wind farms, an investment estimated to be in the region of £10 billion.
The GMB Union said it was "sickening" to see multi-million pound contracts being handed to over sea companies located in authoritarian regimes.
GMB organiser Gary Cook called the deal a "national scandal" and warned it could lead to yet more offshoring of UK renewables jobs.
Cerulean Winds hopes to be awarded exclusivity rights to develop the wind farms under the Scottish Government's INTOG (Innovation and Targeted Oil and Gas) process.
An aim of the project is to decarbonise the oil and gas industry.
Under the terms of the MoU, NOV stated its intent to use Lamprell as its provider for the fabrication, assembly and outfitting in relation to the construction of NOV designed tri-floaters to be used as floating foundations for the three wind farms.
NOV was named as the provider of floating and mooring systems by Cerulean Winds in June last year.
In a joint statement NOV and Lamprell said they would work closely to support and develop UK local content goals [the UK has a 60 per cent target for local content] and will engage in discussions with the UK supply chain and yard(s) interested in participating in the projects.
Jackson, one of the founders of Cerulean Winds, told Shetland News that the MoU will lead to investment in fabrication capacity in Scotland.
"Our basin-wide scheme for decarbonising oil and gas assets through offshore floating wind, which is going through the INTOG process, requires significant fabrication capacity and expertise," he said.
"We are pleased this capacity is currently being developed with substantial financial investment and Scottish Government support in Scotland.
"To deliver at pace and at scale, we are working with prime contractors now to be able to deliver our proposals for INTOG this summer, this will include an unprecedented approach to build out the supply chain in Scotland for INTOG, ScotWind and beyond."
Lamprell chief executive Christopher McDonald said: "Offshore floating wind is a natural progression for the business and represents another step in the realisation of our strategy and establishing our credentials in the UK market.
"We look forward to supporting NOV in the development of this transformational project for the industry and Scotland."
Cook said: "I'm disgusted by it. It sickens me to the core. These so-called 'just transition' jobs – where are they?
"We are losing high-value jobs in key industries that will power the future of our country. Taxpayers are subsidising these projects with green levies, and we can't get any work in the UK.
"Offshore wind has a huge role to play in meeting our energy needs, but instead of securing the vital skills and tens of thousands of jobs that come with it for UK workers, Ministers at Westminster and Holyrood have been asleep at the wheel."
In June 2021, Cerulean Winds applied to develop the 3GW+ floating wind turbine project which will consist of 200 or more wind turbines each with 14 or 15 MW capacity.
If approved, the project is anticipated to be commissioned in 2026.
Last month, Shetland Fishermen's Association warned that local crews were being "crowded out" of their traditional grounds by a combination of renewable energy projects and marine conservation measures.
Fishermen squeezed out as Scotland's seas become overcrowded
Become a supporter of Shetland News
Shetland News is asking its many readers to consider start paying for their dose of the latest local news delivered straight to their PC, tablet or mobile phone.
Journalism comes at a price and because that price is not being paid in today's rapidly changing media world, most publishers - national and local - struggle financially despite very healthy audience figures.
Most online publishers have started charging for access to their websites, others have chosen a different route. Shetland News currently has  over 540 supporters  who are all making small voluntary financial contributions. All funds go towards covering our cost and improving the service further.
Your contribution will ensure Shetland News can: -
Bring you the headlines as they happen;
Stay editorially independent;
Give a voice to the community;
Grow site traffic further;
Research and publish more in-depth news, including more Shetland Lives features.
If you appreciate what we do and feel strongly about impartial local journalism, then please become a supporter of Shetland News by either making a single payment or monthly subscription.
Support us from as little as £3 per month – it only takes a minute to sign up. Thank you.
Support Shetland News
Already a supporter? Sign in to hide this message.