Court / Sentence deferred in dangerous dog case amid concerns over 'public safety'
A TWENTY three year old woman whose Staffordshire terrier was dangerously out of control and attacked another dog which died from its injuries during an incident almost two and a half years ago has had sentence deferred for a hearing.
Anna Etzel, of Lerwick's Holmsgarth Brae, pleaded guilty to the offence which took place on 28 December 2018 close to her home.
The Staffordshire bull terrier named Joey was already subject to a dog control order stipulating that it should always be muzzled and on a lead when in a public place.
At Lerwick Sheriff Court on Thursday, sheriff Ian Cruickshank said he had concerns over public safety, but rather than order for the dog to be destroyed immediately he deferred the matter for a hearing on 7 July.
Procurator fiscal Duncan Mackenzie said that only three months prior to the attack the dog had attacked and killed another small dog, prompting the control order to be put in place.
He said Joey was a "very large and powerful" male and had left Etzel's home without her knowledge and attacked a 13-year-old female Jack Russell dog, taking hold of her in his mouth and shaking her violently.
The Jack Russell's owner had attempted to intervene but was propelled to the ground, sustaining injury in the process. When the man got to his knees he was eventually able to release Joey's hold, with the other dog falling to the ground unconscious.
She had sustained five puncture wounds and, while pain relief was administered, died from her injuries the following day.
Mackenzie said his own "fondness for dogs is well known and it pains me to have to do this" but he believed the dog "poses such a significant threat to other dogs" that there was a strong case to have it destroyed.
Defence agent Tommy Allan said his client had owned Joey for six months prior to the incident. In the ensuing two and a half years there had been no further breaches of the dog control order.
He said on 28 December his client had left Joey in her then partner's care while she was at work. Two other people had been visiting their home and had left the door open when they left, following which the dog left the house unaccompanied.
Allan said the lapse was a "fairly brief one with unfortunate consequences" but did not "demonstrate a pattern".
While not seeking to minimise the impact on the complainers who had lost their pet, the case had had "quite an effect" on Etzel. She also lost her job shortly before the beginning of the Covid-19 pandemic.
She considers Joey to be her "closest friend" and is "keen to get the chance to keep the dog", with Allan adding she had done what she could to ensure their house was secure and was able to regularly exercise the dog without any further incidents.
Sheriff Cruickshank said it was an aggravated offence that had also resulted in a man sustaining injuries, adding that he may order its destruction if he is satisfied that Joey constitutes a danger.
"I do have some concerns about public safety moving forward," he said. "Rather than seal Joey's fate today, I am going to assign a hearing where parties can lead evidence."
Space2face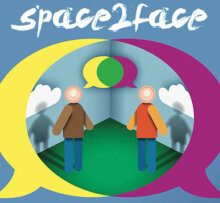 Space2face Shetland is an independent and confidential service which uses Restorative Justice and the arts to bring those harmed by crime or conflict and those responsible for the harm into communication. We enable everyone affected by a particular incident to play a part in repairing the harm and finding a positive way forward.
If you would like to reach out to us, please contact us via e-mail info@space2face.org or mobile 07564 832467.
If you would like to know more, visit our website www.space2face.org, or our Facebook page #space2faceshetland.
---
The project is also currently fundraising to secure office space in Shetland's brand-new creativity and wellness centre, The Mission. If you're interesting in getting involved, or making a donation, head over to www.space2face.org/how-you-can-help