Arts / Smorgasbord of talent announced for much-missed folk festival
A HOST of local and visiting artists have been announced for the 40th Shetland Folk Festival, which is set to take place after two years of Covid postponements.
The return of the festival between 28 April and 1 May will be music to the ears of many in the isles.
Scottish musician Dougie MacLean, who is known for writing Caledonia, will return to the festival having first appeared at the folk festival in 1986.
Grammy nominated string band Della Mae will make their debut at the event, as will Irish singer Heidi Talbot.
Scottish supergroup The Poozies, who play "dazzling, joyfully eclectic mix of contemporary and traditional tunes", will return to the festival, as will Frigg and Habadekuk.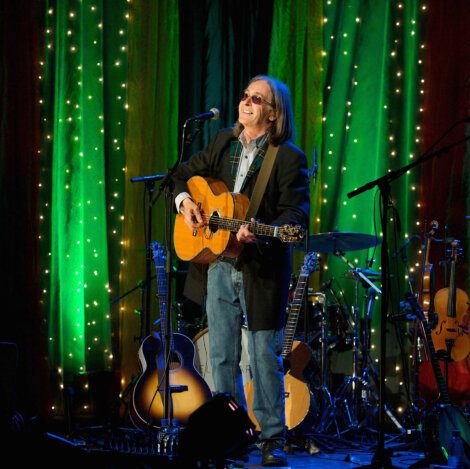 Shetlander Kevin Henderson will also appear at the event, where he will premiere a new tune he was commissioned to write for the festival's 40th anniversary by festival supporter Brian Johnston.
Quebec's Le Vent de Nord are also on the bill alongside folk festival favourite JP Cormier, who will be teaming up with the acclaimed Dave Gunning.
Orcadian duo Saltfishforty will up the spree stakes, while Ross and Ryan Couper are set to perform as 'house musicians' for the festival club alongside the Highlands' Hamish Napier.
A collection of local acts including Haltadans, Vair, Herkja, Skelburn, Freda Leask Band and Shetland's Heritage Fiddlers will also be performing in various venues throughout the isles over the weekend.
Meanwhile some of Shetland's prominent party bands such as the Revellers, First Foot Soldiers and David Sandison & The Tennessee Wannabees will appear in specially programmed late gigs.
Some aspects of the hugely popular festival will be slightly scaled back compared to previous years, but organisers hope people will enjoy the event nonetheless after a lengthy wait.
Festival publicity officer Louise Johnson feels the festival can play a key role in helping build community confidence once more and give something to look forward to in the coming months.
"The last two years have been tough on us all and the live music industry more generally," she said.
"The decision to go ahead with an in-person event was not taken lightly with a range of issues and risks to consider.
"However, after consulting the community and our various stakeholders we feel it is exactly what people need again – a chance to hear world-class music live and come together socially.
"It is something we have all been craving and despite some alterations to how the festival will operate this year, we hope people will appreciate our efforts to provide concerts and a festival club experience in an appropriate way."
The festival club in Islesburgh Community Centre will be open from Friday 29 April and unlike previous years, it will be a daytime venue only with no late-night club programming.
In lieu of the usual late-night programming and sessions, organisers are working hard to create a programme of events including daytime workshops, album launches and programmed live music in the festival club.
Informal sessions will be actively encouraged during the day, as we know that this is such an important part of the festival for many.
To help ensure the lively atmosphere and musical spontaneity that has been missed by many, this year will feature resident club musicians in the form of Ross Couper, Kevin Henderson and Hamish Napier whose role will be to help keep these sessions going.
All members are welcome to bring along their instruments and join in the fun.
Meanwhile a new late-night venue is being introduced at the Lerwick British Legion in Lerwick on the Friday and Saturday, featuring bands that will bring folk to the dancefloor.
These gigs will be ticketed in the same way as other concerts and early members will get priority booking of these tickets.
These late events will follow the same Covid certification rules that are currently in place for nightclubs in Scotland.
Festival Club membership will be available from Friday 18-28 February here and as in previous years, early members will get access to all ticket booking one week before ticket booking opens up to all.
More information about the event and this year's acts is available online.
Become a supporter of Shetland News
Shetland News is asking its many readers to consider start paying for their dose of the latest local news delivered straight to their PC, tablet or mobile phone.
Journalism comes at a price and because that price is not being paid in today's rapidly changing media world, most publishers - national and local - struggle financially despite very healthy audience figures.
Most online publishers have started charging for access to their websites, others have chosen a different route. Shetland News currently has  over 540 supporters  who are all making small voluntary financial contributions. All funds go towards covering our cost and improving the service further.
Your contribution will ensure Shetland News can: -
Bring you the headlines as they happen;
Stay editorially independent;
Give a voice to the community;
Grow site traffic further;
Research and publish more in-depth news, including more Shetland Lives features.
If you appreciate what we do and feel strongly about impartial local journalism, then please become a supporter of Shetland News by either making a single payment or monthly subscription.
Support us from as little as £3 per month – it only takes a minute to sign up. Thank you.
Support Shetland News
Already a supporter? Sign in to hide this message.