Court / Two plead guilty to breaching Covid rules at parties
A TWENTY eight year old man who admitted attending a party in breach of Covid-19 restrictions last November is expected to be fined when he is sentenced later this year.
Aidan McAlister, of Grodians, Lerwick, refused to pay a fixed penalty notice when police attended a party at the town's Mounthooly Street on 22 November last year.
mobile/post-mobile/0
Officers had attended the party at a flat within Chapel House in the early hours of the morning to find 17 people present – far exceeding the number permitted under the rules at that time.
Procurator fiscal Duncan Mackenzie said police were "met with a fair degree of hostility" and when they attempted to educate those present about Covid-19 rules they were "met with arguments".
Defence agent Tommy Allan told Lerwick Sheriff Court on Wednesday that his client had "failed an attitude test" in the way he behaved towards officers.
He said McAlister's father had passed away the week before. In addition to grieving this loss he was facing a £2,000 bill for the cremation, which Allan suspected had contributed to his attitude.
mobile/post-mobile/1
Because of the loss he felt "a need to be among company" and had drunk more alcohol than was sensible. Having sobered up McAlister recognised that in hindsight he would have paid the fixed penalty rather than have the matter come to court.
McAlister is due back in court on a separate matter on 18 August and Sheriff Iain Cruickshank said that, given the explanation offered, he would defer sentence to see whether McAlister could continue to abide by Covid-19 rules in the meantime. 
mobile/post-mobile/2
Meanwhile, a woman who breached Covid-19 restrictions by hosting a "spur of the moment" gathering in her home has been fined £200.
Ashley Robertson, 24, of Burgh Road, Lerwick, admitted to culpably and recklessly allowing several individuals who were not part of her household to enter her home in contravention of restrictions on socialising and gatherings that were in force on 15 November last year.
In doing so she risked contributing to an increase in the incidence and transmission of Covid-19.
Procurator fiscal Duncan Mackenzie said police had attended her address following complaints and found seven people from six different households present, contravening lockdown measures that were in place at the time.
Mackenzie said Robertson had been guilty of an "aberration" in allowing the gathering to take place but had cooperated with the police fully and was "extremely upset to find herself in this situation".
Defence agent Tommy Allan said his client had been at the pub with a friend, which was permitted under the Covid-19 rules at that time, and had met others on her way home and invited them in.
Because it was her residence the matter could not be dealt with by way of a fixed penalty.
Space2face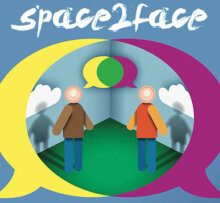 Space2face Shetland is an independent and confidential service which uses Restorative Justice and the arts to bring those harmed by crime or conflict and those responsible for the harm into communication. We enable everyone affected by a particular incident to play a part in repairing the harm and finding a positive way forward.
If you would like to reach out to us, please contact us via e-mail info@space2face.org or mobile 07564 832467.
If you would like to know more, visit our website www.space2face.org, or our Facebook page #space2faceshetland.
---
The project is also currently fundraising to secure office space in Shetland's brand-new creativity and wellness centre, The Mission. If you're interesting in getting involved, or making a donation, head over to www.space2face.org/how-you-can-help