Court / Lerwick Sheriff Court round-up – 12 May 2021
WALKING over the road at the end of the Sumburgh Airport runway when pedestrians were not supposed to has landed a man a £400 fine.
When George New, of Scatness, crossed the road it forced a helicopter to abort its taxi manoeuvre, delaying it by a few minutes.
The 60-year-old admitted at Lerwick Sheriff Court on Wednesday to entering the restricted zone on 28 July last year despite red lights showing that pedestrians were prohibited.
"The airport was quite busy at the time," procurator fiscal Duncan Mackenzie said. "This was about twenty past four in the afternoon."
The court heard that pedestrian New initially had to wait, along with vehicles, when the barriers were up, adding that he sought to speak to staff. When vehicles were allowed to go first, and not pedestrians, he became agitated.
Mackenzie said New claimed that red light system for pedestrians was installed without planning permission – and that he didn't have to wait for them.
The incident was relayed to air traffic control staff, leading to the slightly delayed departure of the helicopter.
Defence agent Gregor Kelly said New regretted his stance. "He was walking down to the beach to clear his head, and this riled him," he explained.
---
A FISHERMAN from Brae who "panicked" when police attended his house and promptly flushed drugs down an upstairs toilet has been fined £800.
Kevin Hughson, of Hevdaland, admitted at Lerwick Sheriff Court on Wednesday to intentionally obstructing four police officers and disposing of controlled drugs in a toilet on 5 August last year.
Procurator fiscal Duncan Mackenzie said police carried out a drugs warrant at the 39-year-old's house, and they caught sight of him when they arrived.
"He ran upstairs," Mackenzie said, adding that he returned five minutes later and allowed the police to enter.
Officers went upstairs and clocked the noise of the toilet's cistern refilling, the court heard. Some remnants of drugs were found and it was later analysed as heroin.
Defence agent Gregor Kelly said Hughson had "succumbed to old temptations" during the pandemic when work was not so busy.
Taking into account Hughson's previous convictions, Sheriff Ian Cruickshank fined him £800.
---
A MAN from Lerwick has been fined £300 for breaking coronavirus regulations by having four other people in his house.
Lerwick Sheriff Court heard on Wednesday that 53-year-old Narrinder Hundal had previously been "warned and educated" about the rules on household gatherings.
But the police were forced to attend his house on Lerwick's St Magnus St on 6 January, where they found four people from four other households.
Defence agent Tommy Allan said that while his client accepted responsibility, "he did not invite these people".
"They were banging on his door, so he let them in," he said, adding that his house was in the "epicentre" of activity in Lerwick and that Hundal was seeking a move.
---
A MAN from Lerwick who behaved aggressively towards staff in the NorthLink ferry terminal has been fined £400.
James Gray, of Grostane, shouted and swore at workers at the Holmsgarth terminal on 28 January.
Lerwick Sheriff Court heard on Wednesday that reception staff became concerned for his fitness to travel when he turned up.
The 54-year-old later claimed he was going south for a hospital visit, but when asked to provide more details he became physically agitated.
Defence agent Tommy Allan said Gray said the restrictive nature of the pandemic had not sat well for his client, while at the time there also had been bereavements in his life.
"He was stuck in his house for a year. Clearly he's struggled with that."
Allan said Gray was "mortified" by his behaviour and was sorry for his actions.
---
A MAN from Nairn has failed in a bid to overturn the remainder of a driving ban he was given following a significant crash in Voe in 2017.
Alan Prosser was disqualified for four years and nine months in 2018 after admitting causing serious injury to three people in another vehicle by driving dangerously while impaired by alcohol.
His vehicle hit a taxi near Voe while it was on the wrong side of the road. He was also jailed for the offence.
Twenty five year old Prosser appeared at Lerwick Sheriff Court on Wednesday to make the case that the remainder of his driving ban – around two and a half years – should be quashed.
He said it would help his employment and also mean he could support his pregnant partner.
However, Sheriff Ian Cruickshank said the original offence was a "very serious matter" and felt it was appropriate that the disqualification remained.
---
"PUTTING the foot down" on the Tingwall Straight has landed a young driver with a £600 fine and five penalty points.
Eighteen year old Morgan Leask, of Lerwick's South Lochside, admitted driving at a dangerously excessive speed at around 1am on 20 December.
Lerwick Sheriff Court heard on Wednesday that the speed topped 100mph.
Space2face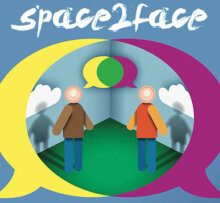 Space2face Shetland is an independent and confidential service which uses Restorative Justice and the arts to bring those harmed by crime or conflict and those responsible for the harm into communication. We enable everyone affected by a particular incident to play a part in repairing the harm and finding a positive way forward.
If you would like to reach out to us, please contact us via e-mail info@space2face.org or mobile 07564 832467.
If you would like to know more, visit our website www.space2face.org, or our Facebook page #space2faceshetland.
---
The project is also currently fundraising to secure office space in Shetland's brand-new creativity and wellness centre, The Mission. If you're interesting in getting involved, or making a donation, head over to www.space2face.org/how-you-can-help