Court / Ferry row man fined
A MAN who lost his temper and refused to take his car off a ferry between Fetlar and Unst has been fined £450 at Lerwick Sheriff Court.
The court heard on Thursday that Fetlar crofter Paul Fowler flew in a rage when he discovered he was not booked to complete a journey to the mainland to go to the marts with sheep.
Fowler thought he had booked the entire journey to Toft, but learned that he was only booked for the first stage of his journey to Belmont and that as other cars were booked to go to Yell, he would have to take his vehicle off the ferry.
But instead, Fowler remonstrated first with a crewman and then the vessel's skipper who told him he could go nowhere as he was not booked to complete the journey.
Procurator Fiscal Duncan Mackenzie said that Fowler became "extremely angry" and refused to get off the ship. Instead, Fowler insisted that as an islander he should get priority and refused to back down even when another driver interceded.
As a result he prevented other vehicles from boarding and these were left behind when the ferry sailed. Extra ferries had to be laid on to take the backlog of traffic, the fiscal said.
Fowler, 54, of Midhouse, Fetlar admitted behaving in a threatening and abusive manner on the Fetlar to Belmont ferry on 8 September 2018.
Gregor Kelly, defending, said that the ferry was already 20 minutes late and Fowler had been taking 20 sheep to the market that were becoming increasingly agitated.
Fowler, he said, was a big man who could appear overbearing but had meant no harm and was sorry if the crew had found his demeanour aggressive.
After the incident, he had his guns taken away by the police with the result that he could not defend his flock from crows and he had had a disastrous lambing season.
Sheriff Ian Cruickshank said that Fowler had caused fear and alarm to ferry crew members and travellers as well as a degree of disruption to the travel plans of others.
The sheriff restricted Fowler's fine to £450 rather than £500 for pleading guilty before the case reached a trial.
Space2face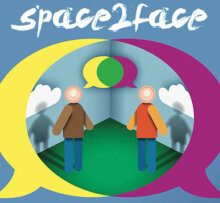 Space2face Shetland is an independent and confidential service which uses Restorative Justice and the arts to bring those harmed by crime or conflict and those responsible for the harm into communication. We enable everyone affected by a particular incident to play a part in repairing the harm and finding a positive way forward.
If you would like to reach out to us, please contact us via e-mail info@space2face.org or mobile 07564 832467.
If you would like to know more, visit our website www.space2face.org, or our Facebook page #space2faceshetland.
---
The project is also currently fundraising to secure office space in Shetland's brand-new creativity and wellness centre, The Mission. If you're interesting in getting involved, or making a donation, head over to www.space2face.org/how-you-can-help