Court / Drunken attacker fined £1,000
A MAN who drunkenly assaulted three others outside the Mareel arts centre prompted a sheriff to ponder "whether to ban Christmas or ban alcohol", as he heard of several similar offences at Lerwick Sheriff Court on Wednesday.
Mark Graham Smith, 29, of Ladieside, Brae, earlier admitted the attacks that happened on 21stDecember in the Christmas run-up.
The court heard that Smith was escorted out of Mareel by a cleaner at 10.45pm after concerns were raised about his behaviour. Once outside Smith tried to head butt the man on the body.
Shortly after he overheard two people laughing about something and approached them asking what they were laughing at. Despite being assured they were not laughing at him, Smith set about punching one of them on the head and attempting to wrestle him to the ground.
A third victim who looked outside Mareel to make sure that Smith had left, then went to assist the other complainer and tried to restrain Smith and calm him down. As soon as he eased his hold on Smith, Smith punched him on the body.
The police had been called and arrived a short time later, by which time, defence agent Tommy Allan said, one of the complainers had taken Smith into Mareel for a glass of water.
Smith had been out on Christmas night with his friends before things had turned ugly at Mareel and he had taken umbrage at remarks he believed were directed at him.
Sentencing Smith, sheriff Ian Cruickshank said: "We have got to the stage where people who act through drunken stupidity will be dealt with relatively seriously."
He fined Smith a total of £1,000 and ordered him to pay £100 compensation to two of his victims. The third could not be identified and was thus not able to be compensated.
Space2face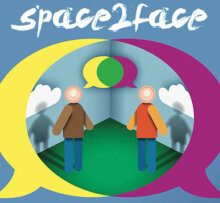 Space2face Shetland is an independent and confidential service which uses Restorative Justice and the arts to bring those harmed by crime or conflict and those responsible for the harm into communication. We enable everyone affected by a particular incident to play a part in repairing the harm and finding a positive way forward.
If you would like to reach out to us, please contact us via e-mail info@space2face.org or mobile 07564 832467.
If you would like to know more, visit our website www.space2face.org, or our Facebook page #space2faceshetland.
---
The project is also currently fundraising to secure office space in Shetland's brand-new creativity and wellness centre, The Mission. If you're interesting in getting involved, or making a donation, head over to www.space2face.org/how-you-can-help