Court / 'A loathsome and despicable act': teenager fined for racist insult
A STERN reminder was made in court this week that racism will not be tolerated in Shetland after a teenager was fined for shouting an abusive remark out a car window.
The man, who cannot be named for legal reasons, shouted "f***ing n*****" out of a moving car when passing a house in Shetland on 24 April.
mobile/post-mobile/0
The 17-year-old, who admitted acting in a racially aggravated manner, was fined £1,000 at Lerwick Sheriff Court on Wednesday and was told to pay an extra £500 in compensation to the victim.
The person the remark was meant for was not in the house at the time, but she was said to be "incredibly distressed" after hearing about the incident.
Sheriff Ian Cruickshank said it was a "loathsome and despicable act".
Procurator fiscal Duncan Mackenzie said the complainer was someone known to the accused, but they had no history of ill feeling.
He described it as an "incident of pure, unadulterated racism with no other reason or motive behind it".
mobile/post-mobile/1
Mackenzie said the man – a first time offender – was a passenger in a car driving past the complainer's house, with the vehicle slowing down as it approached the building.
The accused then shouted the abuse out of the car window before the vehicle drove off.
The remark, which was made at around 11pm at night, was heard by an "appalled" neighbour.
The fiscal added it was "quite alarming in that this happened a few weeks before a depressingly similar incident happened in Lerwick town centre", in which another female was racially abused.
mobile/post-mobile/2
Mackenzie said the man initially told police that he had shouted a word from local dialect and denied it was racial – a "cock and bull" story, the court heard.
Defence agent Andrew Houston said the incident was an example of "drunken idiocy".
He said his client was sitting in the middle seat of the back of the car, and that the windows were already down. Houston added his client had no control over the speed of the car.
The solicitor said that his client messaged the complainer the day after to apologise.
The man admitted that his "idiotic behaviour was unacceptable" and that "racism should not be allowed in any form".
Sheriff Cruickshank said he took into account the age of the accused and that he was a first offender.
But he said it was "unbelievable that anyone in today's age would act in this manner".
The sheriff issued a warning that racism will be dealt with sternly in his court.
"Racism has no place anywhere and it has no place in Shetland whatsoever," he said.
Space2face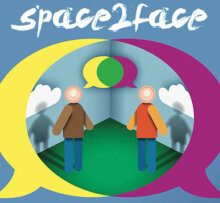 Space2face Shetland is an independent and confidential service which uses Restorative Justice and the arts to bring those harmed by crime or conflict and those responsible for the harm into communication. We enable everyone affected by a particular incident to play a part in repairing the harm and finding a positive way forward.
If you would like to reach out to us, please contact us via e-mail info@space2face.org or mobile 07564 832467.
If you would like to know more, visit our website www.space2face.org, or our Facebook page #space2faceshetland.
---
The project is also currently fundraising to secure office space in Shetland's brand-new creativity and wellness centre, The Mission. If you're interesting in getting involved, or making a donation, head over to www.space2face.org/how-you-can-help