Court / Fined and banned for 'horrendous' episode of dangerous driving
A NINETEEN year old from Voe has been banned from the road for 16 months and fined over £2,000 after admitting driving dangerously at speeds in excess of 100mph under the influence of drugs while being pursued by police.
Jack Garrick, of Vamer, had previously pleaded guilty to the offence, which took place back in December 2020.
The incident occurred on the A970 road beginning around 200 metres north of the Kergord junction, eventually culminating on an unclassified road at Ollaberry School.
Lerwick Sheriff Court heard on Wednesday that police began their pursuit at around 10.15pm when the accused approached and overtook their unmarked vehicle at high speed.
Road conditions were described as wet with "standing water" in places and Garrick was driving at "grossly excessive speeds" having earlier consumed controlled drugs.
He took several bends in the road at high speed, veering onto the wrong side of the road on blind corners.
Procurator fiscal Duncan Mackenzie said the police officers chasing Garrick were able to close the distance sufficiently to flash blue lights indicating for him to stop.
But instead he accelerated away, leaving Voe at over 80mph, and at one stage the police vehicle's speed was exceeding 110mph in an attempt to keep up with him.
One pedestrian who had been about to cross the road when Garrick's vehicle passed through Brae described him driving at "extreme speed" and was concerned that he would end up crashing. Police eventually decided to stop their pursuit on safety grounds, but Garrick continued driving to Ollaberry where he eventually crashed through a fence.
When contacted by police later he cooperated fully. Defence agent Gregor Kelly confirmed his client had made restitution of £500 to the owner of the fence for the damage caused.
Kelly said Garrick accepted that he had put not only his own life but those of others in danger and it was "sheer luck that the ramifications weren't graver", with his client describing it as a "huge stupid mistake".
He described Garrick as a teenager who had worked hard since leaving school and hoped to buy a scallop boat.
Garrick has not driven since the incident and remained "frightened to get behind the wheel of a car", Kelly continued, adding that he presented a "very low risk" to the public and the incident "does appear to be an aberration, albeit a very serious one".
Sheriff Ian Cruickshank described it as a "horrendous and sustained course of dangerous driving" over "a lengthy period of time and a lengthy stretch of road". He was fined £2,000 with a £75 victim surcharge and banned from driving for 16 months. Garrick will also have to sit an extended test of competence before regaining his licence.
Space2face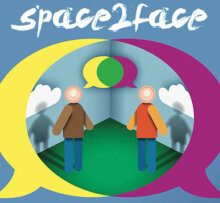 Space2face Shetland is an independent and confidential service which uses Restorative Justice and the arts to bring those harmed by crime or conflict and those responsible for the harm into communication. We enable everyone affected by a particular incident to play a part in repairing the harm and finding a positive way forward.
If you would like to reach out to us, please contact us via e-mail info@space2face.org or mobile 07564 832467.
If you would like to know more, visit our website www.space2face.org, or our Facebook page #space2faceshetland.
---
The project is also currently fundraising to secure office space in Shetland's brand-new creativity and wellness centre, The Mission. If you're interesting in getting involved, or making a donation, head over to www.space2face.org/how-you-can-help