Court / Jail for man who subjected his family to two decades of domestic abuse
A BRESSAY man has been imprisoned for 40 months after admitting a 20-year period of domestic abuse involving a woman and two girls on the island.
John William Clark, 52, pleaded guilty to 13 charges relating to offences committed between 1992 and 2013 at three addresses in Bressay.
Clark, the court heard, had been a perfect "dichotomy", between an outwardly respectable and hard working citizen and a private "volcano", ready to blow at any time.
Clark's catalogue of abuse included two assaults on the woman; once in March 1993 striking her on the head hard enough to leave a bruise after she called him a bastard. On another occasion, at a do in the Bressay Hall, he lost his temper over a prank and seized her by the neck and pinned her against a wall.
On Christmas Eve 2004, at a gathering to open presents, a drunken Clark chased the woman round a fishing boat in a garage while she screamed for help. His father was summoned and he took Clark out of the building.
Clark also admitted locking the two girls out of the house on a snowy day in 1993 or '94 when they were not clad for the weather. The pair had memories of huddling in a snow-filled sandpit to try and keep warm.
Clark assaulted one of the girls on various occasions over a five-year period by striking her with a rolled up newspaper or magazine. He admitted repeatedly striking the other on various occasions with a "spewy cloot" that was used to clean up messes left by a younger child.
Clark also kicked one of the girls on the side as she lounged in the living room watching TV, making her cry.
On a later occasion, he seized the same girl by the throat and pushed her to the floor when she did not obey his instructions to keep hoovering. This attack left her feeling defeated, said procurator fiscal Duncan Mackenzie.
At Bressay ferry terminal the same girl was slapped on "the abdomen" with her bag after she returned from the Scalloway Gala in 2006 and there was a row about the way she was dressed. Once home she locked herself in the bathroom and then went out the window and ran to a neighbour's house.
The other girl had a car door closed on her legs when she tried to get out of the vehicle, leaving her with bruises.
Clark also admitted charges of breach of the peace, shouting and swearing and making threats to the three on various occasions between August 1992 and October 2010 and on various occasions between October 2010 and May 2013 behaving in a threatening and abusive manner.
Defence agent Neil Wilson said that Clark was a complex character whose private life was at odds with his community spirited conduct in public, which included voluntary activities.
Sentencing Clark, sheriff Ian Cruickshank said he had to balance all factors including a criminal justice social work report, 33 character references, the narration by the procurator fiscal and the impact statements lodged by the woman and one of the girls.
The case, he said, would attract great interest in Shetland and elsewhere, with the court of "public opinion" rushing to judgement and scope for "the most extreme and outrageous comments" on social media.
He said that only one of the offences had led to physical injury, but Clark had acted in a threatening and aggressive manner for a continuous period of 20 years.
The sheriff said: "I have concluded that, for 20 years you dominated your family's sky-line like a sometimes dormant and sometimes active volcano."
He said that Clark's victims lived in fear of the next "unpredictable and violent eruption of rage", and that they never knew when, or in what form that rage would surface.
The sheriff gave Clark "maximum discount" for the early stage of his plea, that prevented a court ordeal for his victims, and sentenced him to 40 months imprisonment and imposed a seven year long non-harassment order to prevent contact with the three complainers.
Space2face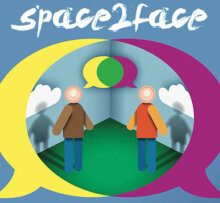 Space2face Shetland is an independent and confidential service which uses Restorative Justice and the arts to bring those harmed by crime or conflict and those responsible for the harm into communication. We enable everyone affected by a particular incident to play a part in repairing the harm and finding a positive way forward.
If you would like to reach out to us, please contact us via e-mail info@space2face.org or mobile 07564 832467.
If you would like to know more, visit our website www.space2face.org, or our Facebook page #space2faceshetland.
---
The project is also currently fundraising to secure office space in Shetland's brand-new creativity and wellness centre, The Mission. If you're interesting in getting involved, or making a donation, head over to www.space2face.org/how-you-can-help