Court / Teenager fined and banned from the road
A COMBINATION of "ignorance and arrogance" led an unqualified 17-year-old to drive dangerously this year, Lerwick Sheriff Court heard on Wednesday.
The male, from Shetland's North Mainland, cannot be named due to his age. He was fined a total of £950 and disqualified from holding a licence for 16 months.
On 18 September this year on the A970 between the Mid Brae Inn and its junction with the B9076, and on the latter road, he drove at "grossly excessive speed", and negotiated blind corners while driving on the wrong side of the road.
mobile/post-mobile/0
The teenager also failed to stop when instructed to do so by police flashing their emergency blue lights.
He did so while holding a provisional licence, not accompanied by a qualified driver and not displaying 'L' plates, and without insurance – offences he had also committed in a separate incident at Lerwick's Church Road on 30 June this year.
Procurator fiscal Duncan Mackenzie said police had been monitoring traffic to the south of the Mid Brae Inn at around 1.15am on the date in question.
mobile/post-mobile/1
After the teenager drove towards them while travelling in excess of the speed limit, officers switched on the emergency lights and drove after him.
He responded by increasing his speed and passed close to two pedestrians on the wrong side of the road, travelling on an unlit side road "considerably in excess" of the 60mph limit.
He continued to increase his speed, leading officers to discontinue their pursuit.
Mackenzie said the offender had claimed he was not causing harm to anyone else and it would be "good if I was on a race track".
mobile/post-mobile/2
Defence agent Tommy Allan said his client's behaviour "smacks of immaturity" and said it was hoped that he would have "grown up" by the time his disqualification period ends.
He had recently taken responsibility for a fishing boat business and his father said that had made him "grow up quite a lot" in the past few weeks.
Sheriff Ian Cruickshank said it was an example of "very poor and dangerous driving", adding that the incident demonstrated how cars "can become a deadly weapon".
---
A TWENTY one year old woman who drove while more than three times over the legal limit and ended up colliding with a fence has been disqualified from driving for a year and fined a total of £700.
Kayla Baptie, of Lerwick's Water Lane, admitted to the offence at Setter, Sandwick on 16 October this year. She had 69 microgrammes of alcohol in 100ml of breath. The legal limit is 22 microgrammes.
She also admitted driving without due care and attention and colliding with the fence, damaging both it and her vehicle.
The incident occurred at around 11pm. Baptie had been at a party and had been drinking before deciding to drive home.
Procurator fiscal Duncan Mackenzie said police traced her and it was estimated the test was carried out around two hours after she had been driving.
Defence agent Tommy Allan said his client, who works as a secretary, was "very upset" and "absolutely mortified" about being in court.
He said she had no explanation for why she decided to drive, though she had been taking medication which in hindsight she should not have mixed with alcohol.
Sheriff Cruickshank said she could reduce her disqualification period by three months if she completes a drink driver's rehabilitation course.
Space2face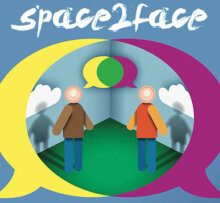 Space2face Shetland is an independent and confidential service which uses Restorative Justice and the arts to bring those harmed by crime or conflict and those responsible for the harm into communication. We enable everyone affected by a particular incident to play a part in repairing the harm and finding a positive way forward.
If you would like to reach out to us, please contact us via e-mail info@space2face.org or mobile 07564 832467.
If you would like to know more, visit our website www.space2face.org, or our Facebook page #space2faceshetland.
---
The project is also currently fundraising to secure office space in Shetland's brand-new creativity and wellness centre, The Mission. If you're interesting in getting involved, or making a donation, head over to www.space2face.org/how-you-can-help