Court / Man fined £500 for sharing intimate video
A TWENTY two year old man has been fined £500 after admitting sharing a sexually intimate video of a woman without her consent.
James Gray, of Gulberwick, pleaded guilty at Lerwick Sheriff Court on Wednesday to sending the video of the woman to someone on a social media app without regard as to whether it would cause her fear, alarm or distress.
Sheriff Ian Cruickshank decided against placing Gray on the sex offenders' register after concluding there was not a "significant sexual element" to the crime.
Procurator fiscal Duncan Mackenzie said the offence, which occurred between April and August last year, saw Gray forward on a video that the woman herself had made and sent to him.
Mackenzie said that as soon as an individual forwards a piece of content to a friend they "lose all control over what happens to it".
After the video began circulating more widely on social media the woman became aware of it and reported the matter to police in March this year.
Defence agent Tommy Allan said his client's action was "certainly less than chivalrous" and accepted Gray was guilty of the offence.
He described it as the equivalent of "locker room banter in a digital age" and, while it was "indiscreet and not gentlemanly", the offence had not been carried out with the intention of humiliating the woman.
"This wasn't revenge porn", Allan said, and the nature of the offence did not suggest Gray was someone the public needed to be protected from.
Allan said his client had sent the video to one other person via Snapchat in a format that would normally be automatically deleted after one view. But the person who received it filmed the video using another phone and then sent it to someone else, who then circulated the video further.
Sheriff Cruickshank accepted Allan's case that, while there was "a sexual aspect, it is not a significant sexual aspect", and fined him £500.
Space2face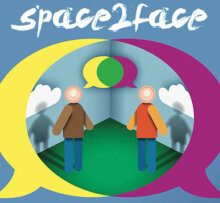 Space2face Shetland is an independent and confidential service which uses Restorative Justice and the arts to bring those harmed by crime or conflict and those responsible for the harm into communication. We enable everyone affected by a particular incident to play a part in repairing the harm and finding a positive way forward.
If you would like to reach out to us, please contact us via e-mail info@space2face.org or mobile 07564 832467.
If you would like to know more, visit our website www.space2face.org, or our Facebook page #space2faceshetland.
---
The project is also currently fundraising to secure office space in Shetland's brand-new creativity and wellness centre, The Mission. If you're interesting in getting involved, or making a donation, head over to www.space2face.org/how-you-can-help