Court / Court round-up 16 March 2022
A TWENTY eight year old woman who left a voicemail threatening to slit her former partner's throat has been fined £420.  
Lilith Noble, of Leaside, Mossbank, admitted sending a message that was grossly offensive or of an indecent, obscene or menacing character in which she swore and threatened to break into the woman's home address and slit her throat.
The incident took place on 25 January this year and, after hearing from procurator fiscal Duncan Mackenzie that Noble had previous convictions relating to the same complainer, Sheriff Ian Cruickshank decided to impose an 18-month non-harassment order.
Noble and the complainer had previously been in a relationship for six years before separating some time ago, and Mackenzie said the complainer had felt the need to block the accused's phone number.
But this had not stopped Noble from calling and leaving a voicemail. The fiscal said the "quite clever" wording of her message was "trying to disguise" any intention to carry out the threats.  "What is real is the fear the complainer was left in," Mackenzie said.
Defence agent Tommy Allan said his client regularly uses anti-psychotic medication but had not been taking it at the time of the incident, and had also been drinking alcohol – something she had since stopped doing.
Sheriff Cruickshank fined Noble £400 with a £20 victim surcharge. Under the terms of the non-harassment order she must only make contact with her former partner to arrange contact with their children.
---
AN EIGHTEEN year old who admitted driving at 96mph on a road in the North Mainland has been fined £500 and given four penalty points.
Daniel Leask, of Trondavoe, Brae, pleaded guilty to driving 36mph faster than the 60mph limit on the A970 Gurtness to Hillswick road on 22 June last year.
Procurator fiscal Duncan Mackenzie told Lerwick Sheriff Court that Leask was detected by a police radar gun at quarter past midnight.
Defence solicitor Tommy Allan said his client "knows fine well" that he should not have been driving at such a high speed, adding it was "possibly a case of immaturity" but that Leask had never been in trouble with the police previously.
---
A WOMAN who lost control of her vehicle and crashed has been fined £420 and given six penalty points.
Paula Wilkins, of Leaside, Mossbank, admitted driving without due care and attention on the A970 north of Fladdabister on 21 November last year.
She left the road and collided with a crash barrier, then crossed over to the other side and collided with a road post, causing damage to both.
The court heard that Wilkins had driven too close to the verge and had then lurched back across the road while attempting to correct her error.
Defence solicitor Tommy Allan said her licence was "absolutely vital" to the 40 year old, who has three children, as she requires it to commute to her job as a care worker.
Space2face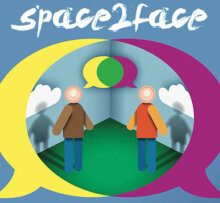 Space2face Shetland is an independent and confidential service which uses Restorative Justice and the arts to bring those harmed by crime or conflict and those responsible for the harm into communication. We enable everyone affected by a particular incident to play a part in repairing the harm and finding a positive way forward.
If you would like to reach out to us, please contact us via e-mail info@space2face.org or mobile 07564 832467.
If you would like to know more, visit our website www.space2face.org, or our Facebook page #space2faceshetland.
---
The project is also currently fundraising to secure office space in Shetland's brand-new creativity and wellness centre, The Mission. If you're interesting in getting involved, or making a donation, head over to www.space2face.org/how-you-can-help