Court / Court round-up 19 January 2022
A TWENTY five year old man who assaulted another man and then brandished a knife at police officers has been handed a two-year community payback order. 
John Fraser Wright, of Lerwick's Observatory, admitted assaulting the man and repeatedly striking him on the head with a knife to his injury at an address in the town's Sandveien on 20 May last year.
mobile/post-mobile/0
He also admitted possessing the knife and behaving in a threatening or abusive manner by brandishing it at police at another Sandveien house the same day.
Defence agent Tommy Allan said his client felt "shame and remorse" and had been facing a number of mental health difficulties at the time.
He accepted full responsibility for the offence and acknowledged he should not have been drinking or taking other substances while on medication, which he had omitted to take on the day in question.
Sheriff Ian Cruickshank handed him the two year community payback order under supervision and also imposed a requirement for him to accept mental health treatment as directed by professionals for the next 12 months.
mobile/post-mobile/1
He also imposed a restriction of liberty order whereby Wright must observe a curfew between 7pm and 7am for four months, with a review in three months' time.
---
A THIRTY year old man who subjected police officers to "totally unacceptable" threats has been fined £640.
Craig Manson, of Lerwick's Ladies Drive, was sentenced at Lerwick Sheriff Court on Wednesday after admitting behaving in a threatening or abusive manner at an address in the town, in a police van and at Lerwick Police Station on 30 July last year.
mobile/post-mobile/2
He shouted, swore, made offensive comments, struck the interior of the police vehicle, made threats to rape, threatened police officers that he "knew where they lived and would send people to their addresses" and attempted to headbutt a safety screen within the charge bar area of the police station.
Procurator fiscal Duncan Mackenzie said police were alerted by a householder at Haldane Burgess Crescent who had been awoken by Manson shouting outside in the early hours of the morning.
Police arrived at 12.50am and found him lying intoxicated in a bush, where he said he had been "drinking and taking lines".
Manson became "belligerent, abusive and downright obnoxious" to the extent that a police officer had to accompany him in an ambulance on the journey to Gilbert Bain Hospital to check on his health.
He told the court he had consumed a whole litre bottle of Morgan's rum at a family night out in a local restaurant prior to the incident, and the effects only kicked in later.
Manson said he had "much respect" for police officers, was a "very nice person" and "would never speak like that" had he not been heavily intoxicated.
mobile/post-mobile/3
Sheriff Ian Cruickshank said a custodial sentence would have been an option but he accepted that Manson was "disgusted with yourself" for his "inexcusable" conduct, noting that police too often had to "put up with this nonsense".
He fined Manson £600 and imposed a victim surcharge of £40.
---
A WOMAN who became a "significant nuisance" at the Gilbert Bain Hospital last summer has been given a 12-moth community payback order under supervision.
Twenty seven year old Julia Roberts Harnett pleaded guilty to assaulting, obstructing or hindering a doctor at the hospital on 9 August.
She repeatedly attempted to enter a treatment cubicle, distracting medical staff who were treating another patient, and also stole a thermometer.
Mackenzie said Harnett had attended hospital to be checked over and had been assessed as being fit to go home, but had refused to leave the hospital.
She was vaping within the hospital, which risked setting off the fire alarm, and repeatedly left and re-entered the cubicle causing a "significant distraction" to staff, Mackenzie added.
Space2face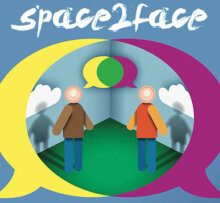 Space2face Shetland is an independent and confidential service which uses Restorative Justice and the arts to bring those harmed by crime or conflict and those responsible for the harm into communication. We enable everyone affected by a particular incident to play a part in repairing the harm and finding a positive way forward.
If you would like to reach out to us, please contact us via e-mail info@space2face.org or mobile 07564 832467.
If you would like to know more, visit our website www.space2face.org, or our Facebook page #space2faceshetland.
---
The project is also currently fundraising to secure office space in Shetland's brand-new creativity and wellness centre, The Mission. If you're interesting in getting involved, or making a donation, head over to www.space2face.org/how-you-can-help