Court / 'Opportunistic' theft leads to seven month prison sentence
A MAN has been handed a seven-month jail term after admitting to stealing a van, workman's tools worth several thousand pounds and a toolbox in Lerwick last year.
Forty one year old Craig Nelson, of the town's Staney Hill, is already serving a jail term for a separate offence.
He pleaded guilty to the offence, which took place on 1 September 2019, when he appeared at Lerwick Sheriff Court on Thursday.
Procurator fiscal Duncan Mackenzie said the vehicle belonged to a St Olaf Street resident who had left the van unsecured with the keys in the ignition after arriving home from work.
"Clearly there was a time when people could do that in Lerwick with a degree of confidence but that's no longer the case," he said, adding it appeared to have been an "opportunistic" theft.
Defence agent Tommy Allan said the matter had only come to light after DNA evidence was "quite randomly" discovered on the van's steering wheel.
He said his client, who is dealing with an opiate addiction, accepted he must have been involved but "wouldn't have been able to remember" anything about the incident as he "wasn't in a good way" at the time.
Following an incident when others snuck into his home and assaulted him in his own bed, Nelson lacks confidence in public places and was also prone to "chaotic" drug use, the court heard.
Whatever had happened, he had not ended up in possession of the tools, which had a value of £5,875, so there was "no evidence of enrichment for himself as a result".
The victim had also had to spend around £1,000 replacing keys and changing the locks on the vehicle.
Allan acknowledged his client had a bad criminal record but pointed out dishonesty was "not a main feature of it".
A previous conviction means the soonest Nelson can be released from jail is next April.
While when he was younger prison was something he "may have been able to shrug off", at the age of 41 "the penny has dropped for him".
Based on Nelson's previous record and his present circumstances, Sheriff Ian Cruickshank issued a seven-month sentence.
Space2face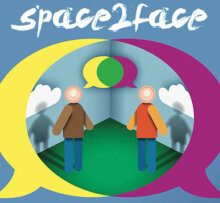 Space2face Shetland is an independent and confidential service which uses Restorative Justice and the arts to bring those harmed by crime or conflict and those responsible for the harm into communication. We enable everyone affected by a particular incident to play a part in repairing the harm and finding a positive way forward.
If you would like to reach out to us, please contact us via e-mail info@space2face.org or mobile 07564 832467.
If you would like to know more, visit our website www.space2face.org, or our Facebook page #space2faceshetland.
---
The project is also currently fundraising to secure office space in Shetland's brand-new creativity and wellness centre, The Mission. If you're interesting in getting involved, or making a donation, head over to www.space2face.org/how-you-can-help