Court / Fine for careless driver who possessed heroin
A CARELESS driver who took a roundabout too fast while at the wheel without his glasses, with two wraps of heroin lying on the passenger seat, has been fined £500 and given three penalty points.
Lerwick Sheriff Court heard on Wednesday that Andrew Sinclair Watt, of Sandwall, Lerwick, had been seen by police driving through a roundabout at Ackrigarth so fast he exited onto the oncoming traffic lane.
The 47 year old admitted driving without due care and attention on the roundabout between Ackrigarth and Oversound Road and without reasonable consideration for other road users on 9 March 2019.
He also admitted driving without glasses or contact lenses which he needed to see properly. When police checked the car for defects they noticed two wraps of diamorphine beside Watt which contained 0.22 grammes of the drug worth £40.
Tommy Allan, defending, said that Watt had not been paying enough attention to the conditions he was driving in and did not understand he was required to wear his glasses when driving.
He said that Watt was in the position of looking after his elderly parents, with whom he lived, and needed to drive to assist them. He had been under stress and had temporarily fallen back into old ways with the drugs.
Sheriff Ian Cruickshank fined Watt £235 and gave him three penalty points for careless driving, endorsed his license and admonished him for driving with no corrective aids.
Watt was also fined £265 for possession of heroin.
Space2face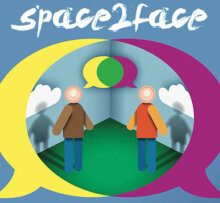 Space2face Shetland is an independent and confidential service which uses Restorative Justice and the arts to bring those harmed by crime or conflict and those responsible for the harm into communication. We enable everyone affected by a particular incident to play a part in repairing the harm and finding a positive way forward.
If you would like to reach out to us, please contact us via e-mail info@space2face.org or mobile 07564 832467.
If you would like to know more, visit our website www.space2face.org, or our Facebook page #space2faceshetland.
---
The project is also currently fundraising to secure office space in Shetland's brand-new creativity and wellness centre, The Mission. If you're interesting in getting involved, or making a donation, head over to www.space2face.org/how-you-can-help